Accolade Wines is adding to its Echo Falls portfolio with the introduction of a new spirit and wine fusion drink.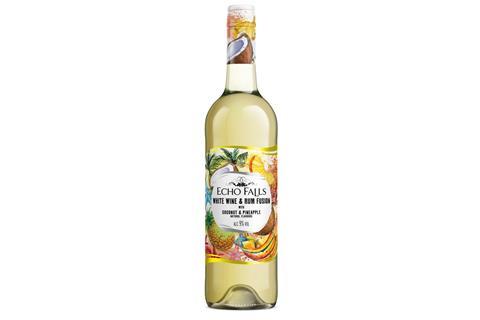 The new lanch: Echo Falls White Wine & Coconut Rum Fusion (9% abv) is a blend of Echo Falls white wine, rum, coconut and pineapple.
Accolade Wines marketing director, David White, said: ''Echo Falls is once again bringing a refreshing and innovative flavour experience to the market, with strong consumer appeal and a new and exciting sales opportunity for the trade ahead of the summer. This is a unique product for people who like the idea of wine but prefer a sweeter style and easy drinking experience.
''We recommend that retailers stock up on these new trend-led products such as Echo Falls White Wine and Coconut Rum Fusion, along with Echo Falls Rosé Wine and Gin Fusion, as they are perfect for encouraging impulse or convenience purchase from consumers who will drink soon after buying."
Echo Falls White Wine & Coconut Rum comes in 75cl bottles (rrp £6) and is available to convenience retailers through listings with Bestway.