C-Store analyses which trends are driving sales this summer
1) Lockdown has seen alcohol sales soar 50%
Alcohol is now the fastest growing category within grocery, up 50% [Kantar, FMCG Panel, 4w/e 17/05/2020] boosted by bank holidays and the sunniest spring on record. All sub-categories increased their sales during lockdown, with beer and lager showing the strongest growth with a whopping 71% increase in sales [ibid].
"Although hard to read because of the shopper climate, we can see that the normal trading patterns we would expect to see during peak summer months are happening earlier and are amplified," says customer marketing manager at Kopparberg Tom Holmes.
"Everyone's drinking alcohol!" claims Spar owner Simon Biddle, who has seen a big increase in sales during lockdown.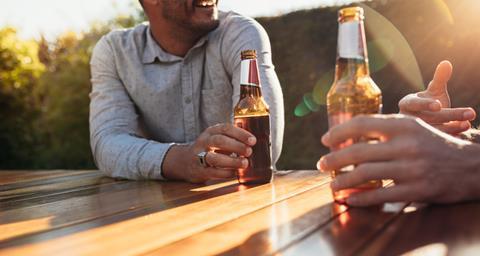 2) Hard Seltzers are exploding onto the market
The low calorie alcoholic sparkling waters are already making a splash stateside, with the market valued at more than $1.5bn in 2019 [Nielsen USA 20.05 52 weeks], and hard seltzers have been bubbling away in the UK for some time with sales growing 28% from 2018 to 2019 [Nielsen Scantrack total off-trade alcohol 52 w/e 18 May 2019 vs YA].
But this year has seen a tidal wave of brands getting in on the seltzer action, with big hitters Smirnoff, Kopparberg and Molson Coors launching Seltzer lines in recent weeks. What's more, leading US seltzer brand White Claw, which boasts 170,000 tags on Instagram, has just landed on UK shores.
Add to this, a raft of challenger brands and more specialist variants, such as 58 Gin Hard Seltzer and a fruity wine seltzer from Barefoot to name but two, and the stage is set for an almighty battle.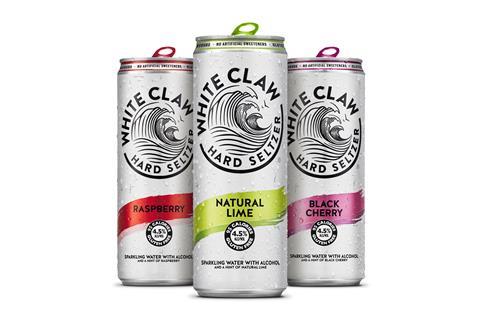 3) Bigger is better when it comes to pack size
Looking to limit car trips and time spent in queues, Kopparberg claims consumers have been purchasing increasingly larger packs; with shoppers who may normally buy into single or 4 packs trading into larger packs and heavy shoppers buying more packs in general.
It's certainly been the case for Simon Biddle of Biddles Spar in Webheath, Redditch. "Multipacks have sold really well - Carling has sold stupidly, Strongbow and Thatchers Gold are doing well," says owner Simon. "Fosters hasn't gone badly either."
Demand for multipacks is so high at St John's Budgens in Kenilworth, Warwickshire, that owner Avtar Sidhu is expanding his range. "People's expectation is similar to the choice of supermarket," he says. "They want take home, which is better value. We're doing more than we've ever done before - we've doubled our SKUs on beer multipacks."
4) Cider sales are hitting the sweet spot in convenience
Over the last year, cider sales have seen good growth at 4.7% in the convenience sector [IRI, Cider- Convenience market, 52w/e 03/05/2020]. This only accelerated during lockdown; with this number increasing to 38.2% [ IRI, Cider- Convenience market, 12w/e 03/05/2020]. "As a business, the convenience channel is up 150% YoY for Kopparberg, as changes in customer shopping habits and an early spell of good weather have been supported by strong supply chain that has ensured a good level of stock through key sales periods, driving significant volume through 4 packs and 10 packs," says Holmes.
"Fruit cider is once again driving category growth; growing at 50.7%, with Kopparberg a front runner in this, seeing 60.1% growth [IRI, Cider- Convenience market, 12w/e 03/05/2020]. Kopparberg Strawberry & Lime and Mixed Fruit the top two selling variants in the sector [IRI, Fruit cider single bottles, 52wk/e 12/04/2020]."
Aston Manor Cider has also seen c-store sales rocket. "We have experienced an uplift in off-trade sales, in particular with convenience stores, as consumers look to recreate the experience of going out for a drink in their own homes," says brand manager Grace Anthony.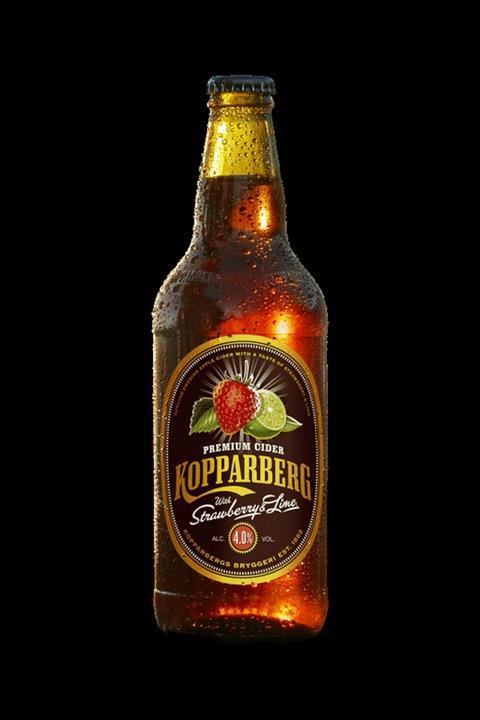 5) The pandemic hasn't dampened demand for premium drinks
Westons Cider claims that the market for premium is on the up. "Premiumisation continues to be the driving force for growth across the off-trade," says head of business development Darryl Hinksman, noting the continued popularity of the Henry Westons brand. Crafted cider saw an increase in value of 40.2% in April [IRI 4 w/e to 25th April 2020]. "Interestingly though, the convenience channel currently under trades in crafted cider," claims Hinkman. "Despite the fact growth of crafted cider in this channel is significantly ahead of the total market, crafted cider represents just an 8.1% share in convenience stores versus 11.6% in total market. This shows there's opportunity for independent retailers to unlock sales if they get serious about this sub-category."
Category and shopper marketing director at Heineken UK Toby Lancaster claims that the value of premium "cannot be ignored". The company reports strong sales of premium products, such as Birra Morreti and craft lagers.
Donna Morgan of Brownlies of Biggar notes that customers want to treat themselves: "I think they're buying better," she says.
"Premium brands have taken off quite a bit across the category, which is what we want!" adds husband Bruce.
Biddles has also witnessed the trend towards trading up. "We have sold more premium spirits," says Simon. "We also have a [premium] gin and tonic called Alfie, which is selling really well."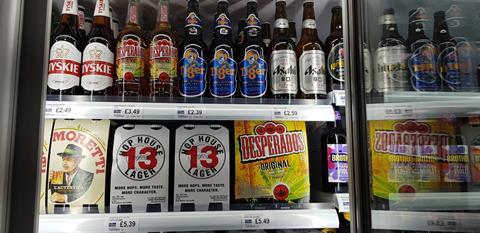 6) As consumers seek out lighter drinks, spritzers offer a key opportunity
"As the weather picked up throughout April and May this year, we saw a lot of customers creating fun cocktail bars in the comfort of their own home or gardens for the whole household to enjoy," notes Continental Wine and Food marketing executive Jessica Smith.
And while of course traditional spirits remain a popular choice, the firm claims many consumers are looking for components which offer full flavour without the high ABV, such as The Straw Hat gin liqueurs, which have a 20% ABV. "The three flavours consist of rhubarb & ginger, violet and raspberry & rose, all of which fit perfectly into the forming trend for lower alcohol spritz-style drinks," says Smith.
"Lower ABV spritzer style products are increasing in popularity," agrees Lucy Cook, brand manager at Broadland drinks. "According to Broadland research, 41% of still wine served with a mixer is being drunk by those under the age of 35, which is great for bringing in new younger shoppers to the category," she says. The firm recently launched its lower alcohol 5.5% ABV Three Mills Botanicals range in 75cl bottles.
Retailers can encourage spritz sales with complementary merchandising, claims Kingsland Drinks. "With the current increase in at-home drinking, we have seen consumers becoming more experimental, adding complimentary fruity garnishes and refreshment into their serves, so adjacent merchandising that encourages different serves for summer as well as food pairing suggestions are great ways to help shoppers make a quick and easy decision," says brand manager Fiona Nicholls. Kingsland launched three Vin Crowd canned spritz lines in March in white, pink and botanical varieties.