Impulse innovation and multipacks will help retailers conjure mid-summer magic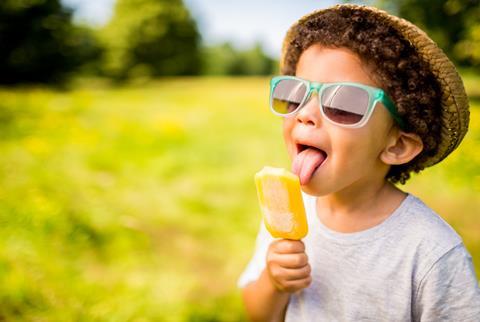 1. Convenience ice cream sales now top £828m
When the sun comes out it can seem that every c-store shopper is screaming for ice cream. And the stats show that sales are topping pre-pandemic figures and still have room to grow for 2022, with convenience ice cream sales now topping £828m (IRI, Convenience, Total Sales, 52 w/e 06 Nov 2021).
"In convenience, [ice cream] sales in the last year were £28m higher than 2019," says Henry Craven, customer marketing controller at Froneri.
"As one of the nation's favourite treats, ice cream is a category that continues to grow, with consumers enjoying new and interesting formats and more choice than ever before. Take home ice cream has 92% household penetration, underlining the enormous popularity the category enjoys [Nielsen & Kantar 52wk data to 25.12.2]."
Throughout the pandemic, shoppers swapped meals in restaurants for dinners at home, often including a dessert of ice cream, which helped ice cream sales grow in convenience, claims Partners for Growth. "However, the return of normality and annualisation of 2020's strong performance saw flat growth of +0.6% for take home ice cream in 2021 []Nielsen MAT 17th July 2021 Total Coverage Convenience/Total Impulse]."
At a total level, Take Home Ice Cream commands the largest share of the market, adds Craven. "However in the convenience channel, impulse ice cream has a much greater share, accounting for almost 50% of annual value sales, rising to 63% in the summer months [ibid]," he says.
"We see lots of young people coming in for lollies and ice creams in the summer," confirms Ajay Singh of Premier Morley in Leeds.
"It's something that all ages go for. If people want a treat and it's warm that's what they'll come in and choose."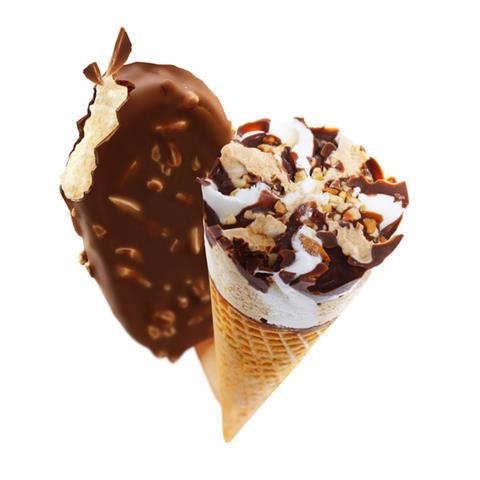 2. Handheld sales are up 9% since 2019
"Handheld is a popular snacking format, convenient and easy to consume for busy lifestyles whether at home or on-the-go," says Jose Alves, marketing manager for ice cream at General Mills UK.
"[It's] enjoying +28% growth across the category (+9% in convenience) vs. two YA [Nielsen]. This is primarily driven by the rise of snacking and the growth of chocolate handheld. We expect to see this trend continue, particularly within "premium" and "indulgent" spaces – an area Häagen-Dazs has capitalised on.
"Häagen-Dazs on-the-go Chocolate Handhelds have seen a dramatic +91% growth in convenience vs. two YA and we expect to build on this in 2022."
Meanwhile, Michelle Frost, general manager at Mars Chocolate Drinks and Treats adds that the work-from-home trend has also caused an uptick in sales.
"The past year has seen a number of key trends that have contributed to our handheld ice creams growing at a phenomenal rate across all channels," she says.
"As the UK continued to predominantly work from home, shoppers are seeing the freezer become an extension of the traditional snack cupboard."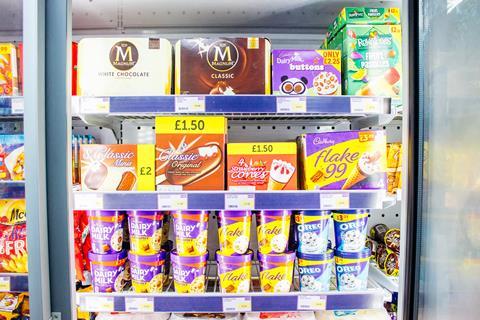 3. Handheld multipacks are now worth £178 million in c-stores
If handheld is the convenience channel winner then multipacks are making them more enticing for customers facing a potentially cash-poor year ahead, with this segment valued at a tasty £178m (IRI 52 we 06 Nov 2021 Handheld Multipacks, Value Sales).
Falkirk retailer Anand Cheema says that ice cream multipacks are a serious trend in his store as more customers go for the value-for-money sweet spot.
"We've definitely seen trends changing over the last year," he says.
"In chocolate the multipacks are doing very well and the same is now true in ice cream. People see them as better value for money overall. Kids come in and buy a pack of four and then give three away to their mates."
"With the introduction of new formats into the category, ice cream is no longer restricted to being either a dessert or a hot weather snack," says Frost. "And our handheld multipacks are testament to this, as more consumers are buying to have at home for all occasions.
"As this change in lifestyle is looking to continue, we are making more of our brand favourites available to consumers in both single handheld and multipack format, starting this month with Skittles Stix and Starburst Ice Lolly. We are confident that by bringing even more confectionery favourites to the freezer aisles, we will continue to drive consumer interest and sales, given the popularity of our iconic confectionery flavours."
ADVERTISEMENT
Unlocking HFSS with Häagen-Dazs Gelato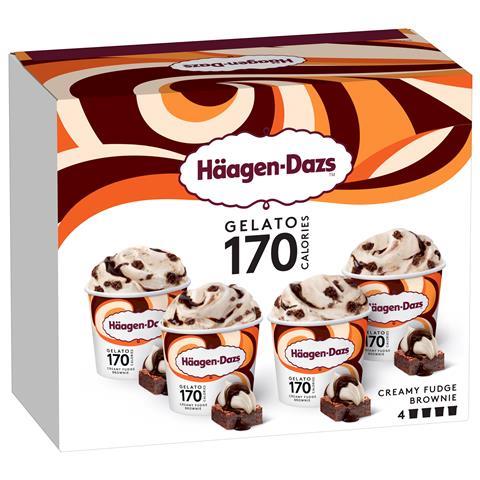 The Häagen-Dazs Gelato range has one of highest repeat purchase rates in the sub-sector at an impressive 29% vs competitors1, containing only 150 calories per mini cup 95ml portion, with 30% less sugar and 50% less fat than regular ice cream.
Häagen-Daz Gelato ice creams contain lower air content, resulting in a richer, creamier, and more velvety experience for consumers and empowers shoppers with healthier choices.
The "Gelato" range now includes a delicious Creamy Fudge Brownie flavour and format expansion of the top-performing Caramel Swirl. RRP £4.99.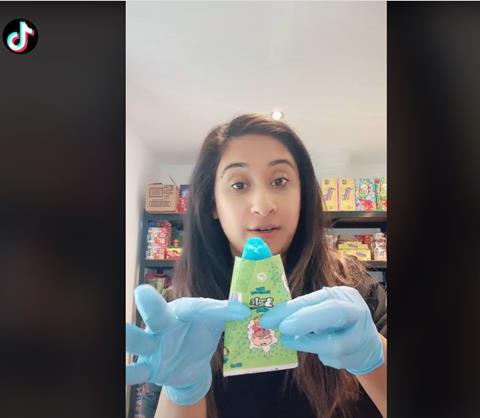 4. TikTok can drive new product trends
At the beginning of last year, Japanese-inspired ice cream creations Little Moons caught the public's eye on social media platform TikTok, resulting in unprecedented demand for the bite-sized freezer pleasers. Independent retailers who managed to source them regularly sold out of the bite sized treats and it seems they aren't the only frozen treat to whip up excitement.
Anand believes that what customers are seeing on their phones dictates what they're demanding at the till and last summer he scored big when he picked up on another new product going viral on TikTok.
"You always have to leave room to try new things," he says. "For example, last year we saw Brain Licker Ice Pops trending on Tik Tok. We got them in and even though the weather wasn't great we sold five or six cases. So you have to keep an eye on current trends and customer requests."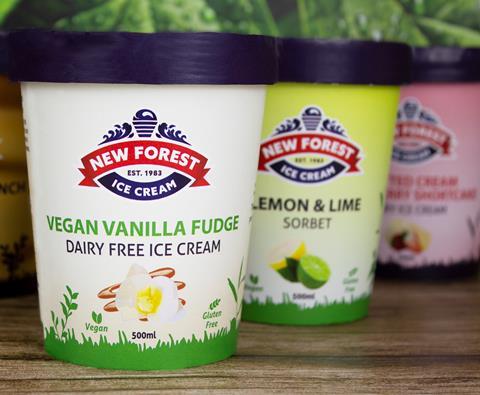 5. Younger c-store shoppers see dairy-free as healthy
Stats show there's still plenty of sales scope for dairy-free ice creams. According to Mintel, under-45s, the highest users of dairy-free ice cream, are more likely than older consumers to see dairy-free ice cream as healthier than standard (Mintel, Ice Cream UK April 2020).
Unilever's Partners for Growth observes that healthier options are driving ice cream sales. "This performance can be attributed to the growing options available on the market, including low calorie, dairy free, and vegan options, catering to a wider audience," says the group.
Brands are responding too. For example, at the end of 2021 New Forest Ice Cream added two new flavours to its dairy-free range: Vegan Vanilla Fudge and Lemon and Lime Sorbet.
But is this trend translating to more sales on the c-store shop floor?
Kenton Burchell, trading director at Bestway Wholesale, is hedging his bets. "Healthier choices is certainly a trend to watch for and we have seen an uptake in plant-based and dairy free ice creams, but it's still a little early to tell if this trend will be in demand in the convenience channel," he explains. "[But] we have seen a resurgence in impulse purchases in the wake of the pandemic, and with more people looking for a bit of a treat, the category should see strong sales this year."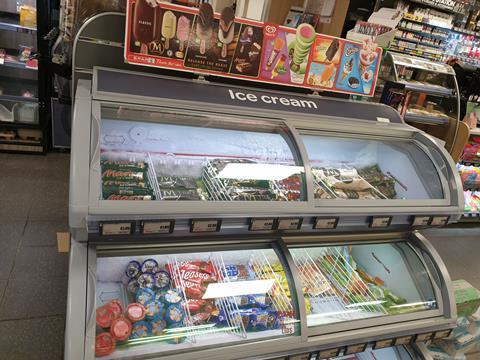 6. HFSS could give c-stores an edge on the mults
Elsewhere in health, c-store retailers are now acutely aware that HFSS regulations are due to drop later this year. Burchell says that this might actually be to some c-stores' advantage.
"With a majority of convenience stores being exempt from HFSS regulations, we do not envision the upcoming changes to have too much of an impact on the category," says Burchell. "If anything, the channel has a fantastic opportunity to ramp up promotional activity and take on larger stores or the multiples who will have to adhere to HFSS regulations."
Craven adds that despite the new regs, indulgence-seeking shoppers will still be searching for their favourites in-store – wherever they're positioned.
"Ice cream is a treat category and enjoyment is the main driver of consumption – consumers tell us it has to taste good, so while it's likely that some impulsive sales will be lost in larger retail chains where HFSS restrictions on promotional space and mechanics will apply, we expect shoppers will continue to look for their favourite ice creams products to meet their need for an indulgent treat."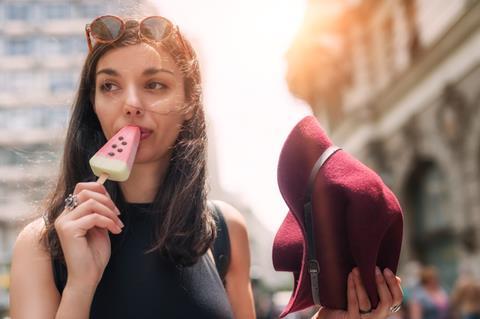 7. Nearly nine in ten (86%) impulse ice cream sales happen between April and September
"The warmer summer months are particularly important for the impulse ice cream market where sales usually spike as the temperature rises – 86% of sales come between April and September [Nielsen & Kantar 52wk Data to 25.12.2]," says Craven. "Sales can double from one week to the next if the sun shines, so we advise retailers to keep a close eye on the weather forecast."
However, the sun shining in the UK still might not make 2022 a bumper sales year if shoppers are escaping abroad. Plus, future price rises could potentially dull appetites.
"Over 2022, all brands will face a level of increasing costs associated with the rise in inflation," says Frost. "We are also predicting that as foreign travel becomes more accessible, we may see the staycation in decline, which could have an impact on ice cream sales in UK during the Summer months versus previous years."
In Falkirk, an optimistic Anand is holding out for a lucrative summer. "When the sun's out, people are in a positive mood they want to come in and treat themselves," he says.