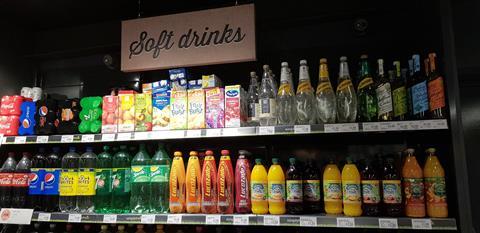 1. Consumers spend 10% more on soft drinks at Christmas
"Shoppers' spend on soft drinks increases in December; spending 10% more in this period compared to average spend across the year [Kantar Worldpanel, Total Take Home, 4 weekly Spend Per Buyer Across 2 Years, Data to 03.02.2020]," says Phil Sanders, out of home commercial director at Britvic. "Therefore, availability of a range of soft drinks categories is as valuable as ever. Consider merchandising soft drinks with other complimentary categories in store, to create additional purchases."
Coca-Cola European Partners (CCEP) claims that total soft drinks sales grew by nearly 4% over the Christmas period last year [Total Soft Drinks, Nielsen, Dec 2019] and the firm has high hopes for c-store soft drinks sales this season. "Christmas presents a big opportunity for independent retailers to grow their sales," says Amy Burgess, senior trade communications manager. "Many convenience stores have gained new shoppers this year and meeting their needs at Christmas is an important way to cement these new customer relationships and drive long-term loyalty into 2021 and beyond."
Sagar Patel expects soft drinks to pop this season. "We definitely have good soft drinks sales at Christmas, we tend to sell more of the larger sizes," says the owner of Costcutter Huntingdon in Cambridgeshire. "Christmas is going to be a bit of a strange business, we don't know what's going on with the rules of mixing. We're going into the unknown, but I expect sales to be similar to last year. Our bestsellers are regular Coca-Cola and Pepsi, Schweppes lemonade and soda water."
The big brands are also set to work their magic at Meon Vale Londis in Warwickshire. "Generally at Christmas we look to a 20-30% increase in sales across the store and soft drinks is a part of that," says owner Jeetinder Singh Bansi. "Usually there are family get togethers. This year the scenario will be different, however, we'll be fully stocked on the key lines."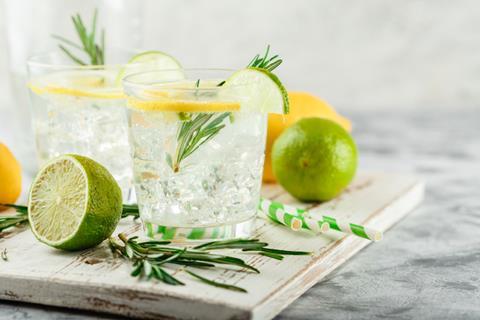 2. Lemonade is the preferred mixer for younger gin drinkers
Over half (53%) of gin drinkers aged 18-34 now prefer lemonade as a mixer, or a G&L, with just a quarter (26%) opting for tonic, according to a recent survey of 2,000 consumers commissioned by premium gin brand, Boë Gin. And it's not just young drinkers - the firm says that lemonade is the preferred mixer for over half (52%) of all flavoured gin drinkers.
"We sell a decent amount of lemonade - I can see why younger people would buy it for the gin," says Sagar. "Tonic is a good seller, especially the Co-op Slimline Tonic and Schweppes as well."
Burgess claims that Schweppes, which offers both lemonade and tonic within its portfolio, has a "key role to play for retailers looking to make the most of the mixer opportunity this Christmas". The brand is growing by more than 25% (Nielsen Total Market Value, MAT to w/e 05.09.20) – and will be supported by a new marketing campaign in the run up to Christmas.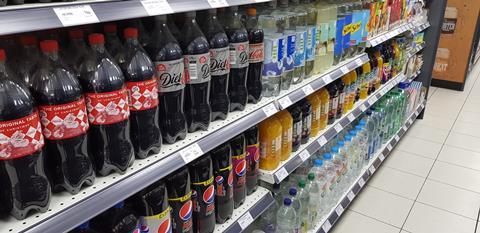 3. Take home packs are in double digit growth in indies and symbols
CCEP is predicting continued demand for multipacks over the festive season. "We saw a growth in sales of large PET bottles and multipack cans of soft drinks during lockdown as more people socialised in the home [Nielsen Total Market Value, 4 week ending 18.04.20]," says Burgess. "These packs continue to enjoy double digit growth now [Nielsen Value MAT Indies & Symbols 26.06.20] – a trend we expect to see continue for the foreseeable future to Christmas and beyond. Sales of Coca-Cola sharing packs are up 20% [Nielsen (Home Channel) MAT Value w/e 13.06.20] across grocery and convenience presenting a real opportunity for retailers this year." Festive packs of Coca-Cola original, zero sugar and Diet Coke are available across take-home formats including large PET bottles and multi-packs of cans and glass bottles.
As the majority of lunch occasions now occur in the home, retailers should consider product formats that cater for these occasions, concurs Britvic. "Larger formats like Pepsi Max and 7UP 2L bottles are ideal for this and should be given extra visibility over the festive season," says Sanders. "Consider placing them in chillers for those looking for a last-minute purchase for the evening and use cross-category promotion with relevant snacks to drive additional sales."
Take home soft drinks are a hit with customers at Costcutter Huntingdon. "Larger pack sizes are definitely something people are looking for at Christmas," says Sagar. "Both bottles and multipacks go a lot better and they tend to have more promotions on them closer to Christmas. We do four-, six- and eight-packs of Pepsi Max and Coca-Cola. We stock the larger packs when it's on promotion."
24-packs are a major draw for Meon Vale Londis. "Diet Coke and Coke Zero is £7.49, and we sell Pepsi Max, Diet Pepsi, cherry Pepsi Max, R. Whites Lemonade and Tango - all the Britvic products at £6.99 flat rate," says Jeetinder. "We make hardly anything on them, but it's just to push the basket spend up and drive the footfall because customers come in and buy three or four at a time sometimes on top of what they're already purchasing."
Big bottles also capture his shoppers' imagination. "On the next [Londis] promotion, the 2l bottles of Pepsi Max will be two for £3," he says. "The 1.75l cokes and 2l drinks do very well for us, especially when they're on a multibuy around Christmas."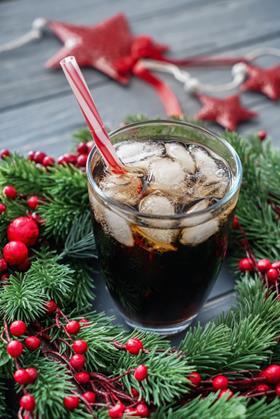 4. 60% of households made a cola purchase last Christmas
Cola is the largest soft drinks segment over the festive season (Nielsen Scantrack, Total Coverage, Volume Growth, 8we 04/01/20), with 60% of households making a cola purchase (Kantar Worldpanel, Total Market, 12 wks to 29.12.19, Penetration).
Sagar and Jeetinder both claim that Coca-Cola and Pepsi Max are their best selling soft drinks. "Coca Cola saves Christmas doesn't it really!" grins Jeetinder. "And we always have Pepsi on offer at Christmas."
Cola isn't just popular as a stand alone drink, of course, but also as a mixer. "Cola is also the second most consumed mixer with spirits and this is growing at a faster rate than overall cola consumption [Kantar Worldpanel, In-Home Usage Panel, Cola value growth, 52wks, Data to w.e. 22.03.20 (Growth is 2YA CAGR)]," says Sanders. "This presents a significant opportunity, making Pepsi Max a must-stock for retailers ahead of the season."
Meanwhile, CCEP highlights the success of Coca-Cola. "Last year our soft drinks portfolio was the largest contributor to Christmas soft drinks growth [Total soft drinks Nielsen & CGA 12 week Dec 19], led by Coca-Cola," says Burgess. "We see this continuing for 2020 as consumers look for affordable ways to treat themselves."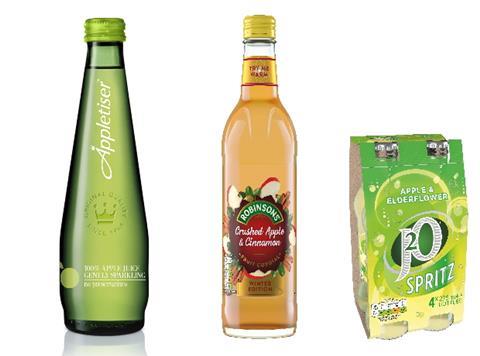 5. Nearly half of young hosts plan to offer no or low alcohol options this Christmas
46% of hosts aged 18-34-years-old will offer low or no alcohol drinks to guests this Christmas, up 16% since 2019, according to the Tesco Christmas report 2020.
This illustrates a clear demand for adult soft drinks, and of course people don't just want any old drink at Christmas time. "Growing numbers of adults are cutting back on the amount of alcoholic drinks they consume, and are looking for non-alcoholic alternatives to enjoy on Christmas drinks occasions," says Burgess. "Premium soft drinks like Appletiser can offer a sophisticated non-alcoholic option, when others may be having beer, wine or cocktails. Appletiser can also be an interesting base for mocktails." Appletiser increased in value by just over 11% during December 2019 (Total GB, Nielsen, 4 w/e 28th Dec 2019).
J2O is another top performer, accounting for 32% of total adult category value sales in the lead up to Christmas (Nielsen, Grocery Multiples Value Sales ,L12 weeks WE 01.02.20). "Our J2O Spritz apple & elderflower offers a more adult variant with the flavour performing strongly in consumer research," says Sanders.
Britvic will also be promoting it's top tier Robinsons Fruit Cordials, which are 10% up in value sales (Nielsen Scantrack Total Coverage GB, Value % Change, 52 w.e.27.06.20), as the exclusive Christmas sponsor of Discovery's Food Network TV channel. Along with the usual flavours, the firm has released a crushed apple and cinnamon winter edition.
Cotswold Fayre agrees that there is a big opportunity for more upmarket lines, with chief executive Paul Hargreaves, urging retailers to "think ultra-premium". The company's top three best-selling soft drinks this Christmas are Braes o Gowrie sparkling elderflower drink, Belvoir mulled winter punch and Mr Fitzpatrick's plum pear & mixed spice cordial.
Sales of pressé pick up at Christmas, notes Jeetinder. "People want that little bit of extravagance, they'll trade up at Christmas," he says.