Convenience retailer Mo Razzaq has installed a new reverse vending machine (RVM) which accepts glass, as-well as PET plastic bottles and drinks cans, in his Family Shopper store in Blantyre, Scotland.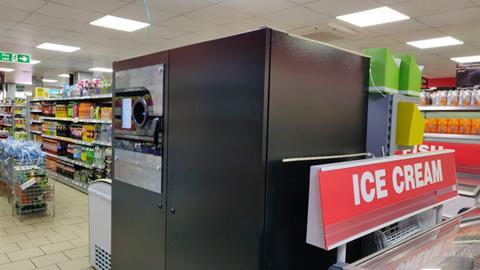 The installation of the Model X3 RVM system, follows a trial of an RVM for drinks cans and plastic bottles which Mo carried out earlier in the year.
"We first trialed a deposit return scheme in December 2018. Then, it only accepted drinks cans and bottles, that was all.
"This week, we introduced the new machine that accepted glass. The main reason behind it was to test how the glass would impact on us retailers."
The Scottish Wholesale Association had previously warned that accepting glass bottles as part of a national DRS scheme could present "a range of health and safety implications as well as logistical challenges," for smaller retailers.
The installation in Mo's store follows three earlier RVM trials in Scottish independent retailer's stores, in which customers received 10p for every empty plastic bottle they deposited, with the option to donate to local fundraising campaigns.
The Scottish Grocers Federation led campaign ran at Nisa Local and Post Office in Bellshill, North Lanarkshire, Premier Broadway in Edinburgh and Keystore in Moredun, Edinburgh, from mid-February until April this year.
The Scottish government announced in May that a Deposit Return Scheme (DRS) for Scotland will include glass, plastic and aluminium drinks containers of all sizes and will apply to all retailers, while the Department for Environment, Food & Rural Affairs (Defra) confirmed in July it will consult on a proposed model for a Deposit Return Scheme for drinks containers in England and Wales in 2020, ahead of implementation by 2023.
In England, Sainsbury's has introduced a reverse vending machine which accepts glass bottles - as well as PET bottles and cans - at its supermarket in Newbury, Berkshire.
The Sainsbury's trial is taking place in conjunction with Tomra Collection Solutions UK and Ireland, using a machine known as the T-70 Dual.
Sainsbury's is offering a 5p coupon for every qualifying drinks container which is returned to the machine.