The Scottish government is being urged to remove glass from its Deposit Return Scheme (DRS) after a convenience store trial revealed serious challenges and health and safety hazards for staff.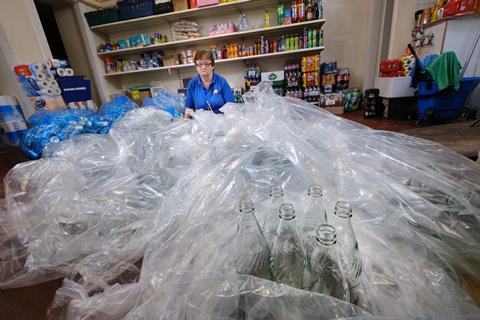 The trial, at the KeyStore-Clydebank Co-operative in Glasgow, tested the two key challenges that the scheme would present to stores operating an over the counter manual take-back scheme; handling glass and the lack of space.
The store collected 300 plastic bottles, 300 cans and 300 glass bottles, all of which were placed in the storage area to accurately reflect the real challenge of finding space for significant amounts of returned containers.
The trial revealed that storing even just a few bags behind the checkout area quickly used up any available space and caused "serious disruption to the ability of staff to move around freely and serve customers".
The amount of bags required to store the containers and their weight (the 300 glass bottles used in the test required 18 bags) also meant that productivity was "significantly reduced" as staff needed time to fill, move and store the bags.
JW Filshill sales director Craig Brown said: "This simple test has shown that our concerns about DRS, particularly the concerns about glass, are fully justified.
"A bag full of 30-40 glass bottles is very heavy, makes considerable noise when moved around the store and takes up significant space.
"Even with careful handling there were breakages. This will definitely present a health and safety hazard to staff and customers."
The Scottish Grocers Federation (SGF) called on the Scottish Parliament to "say no glass".
Head of public affairs John Lee said: "The Scottish Parliament must say no glass. Retailers want to make this work: convenience stores are flexible enough to adapt to PET and cans, but glass is a step too far.
"Frankly, given the lack of space in a modern convenience store and the growing number of stores who offer food, having customers return glass bottles to stores is simply wrong."
The Scottish Parliament is currently scrutinising the draft DRS regulations with the process due to be complete by December. Retail organisations are continuing to press MSPs for glass to be excluded from the final legislation.
Speaking at Tuesday's ACS Heart of the Community event in London, Linda Williams, co-owner of Premier Broadway in Edinburgh, said there "were so many customer-facing issues" that hadn't been considered in relation to DRS, including the storage of empty glass bottles.
She also highlighted that Reverse Vending Machines would need to be cleaned four or five times a day, thereby increasing staff costs, while retailers who successfully apply for an exemption would also lose footfall.