The UK's big brand manufacturers must to step up their efforts to reduce packaging waste and join the plastic-free revolution, retailers claim.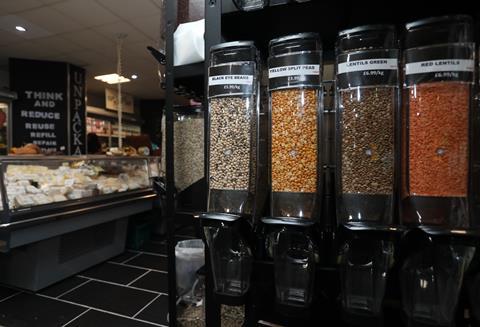 The calls come as North London retailer Andrew Thornton unveiled a new 'unpackaged' range of 200 products in his Thornton's Budgens store, in Belsize Park, last week.
The new unpackaged range includes peanut butter on tap, fresh organic milk in glass bottles and a plethora of dry and non-food lines, building on the 1,800 products introduced in plastic-free zones last year.
Andrew said he remained committed to realising his vision of a plastic-free store, but it also required the big manufacturers to take further action to develop their packaging.
"Unilever seems to be embracing it but otherwise the progress is slow," he said.
In October, Unilever pledged to halve its use of virgin plastic by 2025 and help collect and process more plastic packaging than it sells.
Peter Patel, owner of a Costcutter store in Brockley, London, agreed that more needed to be done and faster.
"Products are over-packaged right through the supply chain and a good place to begin taking action would be the cases that we buy at wholesale which are excessively packaged and produce mountains of waste before the products even hit the shelves.
"As a store we are already doing what we can, by selling the vast majority of our fruit and vegetables loose. We are also looking to introduce a new range of refillable products, but more needs to be done at manufacturer level," he said.
Karen Evans, business manager Cletwr community shop, Machynlleth, Wales, added: "There's no doubt that the big name manufacturers could and should be doing more to reduce packaging waste. A number of products - such as baking potatoes and sanitary towels - seem needlessly overpackaged to me."
Chris Pollard, owner of Barlby Village Stores, North Yorkshire, said: "More action to reduce packaging by the manufacturers would be welcome but it is a delicate balance for them to strike as product quality can't be compromised. "
In 2018 only 9% of plastic was recycled in the UK, according to campaign group A Plastic Planet, which said greater focus was needed on reducing packaging in the first instance, and in promoting circular products where waste is re-used.
"Often niche new brands lead the way but to have the essential urgent impact, we need the biggest global businesses to act faster," it said.
Independent suppliers take steps forward
Some of the UK's independent manufacturers are making positive strides on plastic reduction.
This autumn frozen food brand Cook introduced a revolutionary new tray for its four-portion meals made from up to 85% recycled material that is also 100% recyclable. Its kids meals and one-portion sides have also been moved into cardboard trays.
The family-owned biscuit manufacturer Border Biscuits also removed 90% of plastic from its packaging as part of a wider £1.6m investment in its products and processes last month.