Scotmid Co-operative is trialling its first-ever refill station at its Stockbridge store in Edinburgh.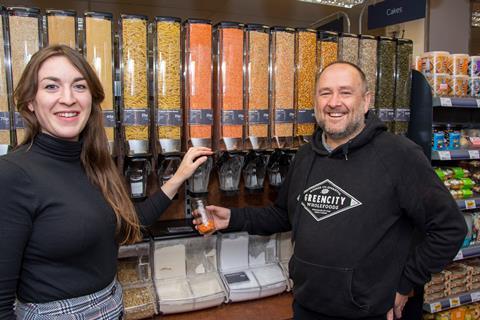 The dispensers, which contain dry foods such as pasta, couscous and dried fruit and other products ranging from coffee beans to soap powder, have been met with universal approval from members and customers, according to Scotmid.
The products are provided by Glasgow-based co-operative, Greencity Wholefoods.
Scotmid said it was the first major retailer in Scotland to introduce self-service dispensers.
Customers are encouraged to bring their own containers such as Tupperware or jars to fill the products in.
Scotmid local sourcing manager Kirsty George said: "We're incredibly excited about the launch of the refill station at our Stockbridge store and the initial response has been overwhelmingly positive.
"It has been excellent to work alongside another Scottish co-operative, Greencity Wholefoods and together we've managed to make this become a reality.
"We're all really passionate about helping our customers to reduce their plastic consumption where possible and the introduction of the refill station fits our values and principles as an ethical retailer."
She said Scotmid would consider which other stores to roll out the concept to following the trial.
Scotmid Stockbridge won the Convenience Retailer of the Year award at the Convenience Retail Awards 2015.