A Spar store in Somerset has enjoyed instant success from selling locally-produced milk in glass bottles.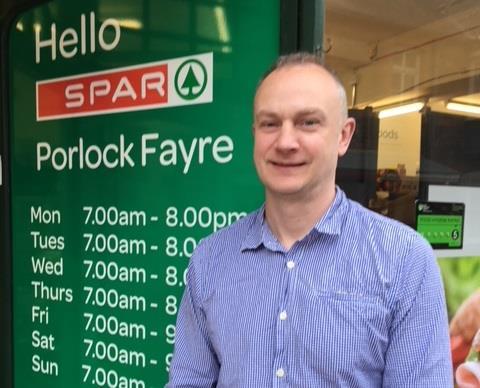 After Stephen Lister introduced the scheme at his Porlock store, he sold out of glass bottles within days, while the store received 6,000 hits on Facebook in a week.
Using refrigerated milk pergal dispensers, customers help themselves to Somerset milk from glass milk bottles supplied. After use, customers wash out their litre or half litre bottles, bring them back to the store and top up again.
"The milk comes in the dispensers from the Gundenham Dairy in Wellington. We charge £1.50 for the bottle, then customers can help themselves to milk for 99p per litre or 50p for 500ml," said Stephen.
"We sold out in no time and it's been a great success, with not a great effect so far on our other milk sales."
One customer said on Facebook: "Imagine if the majority of Porlock use this how much the village as a whole will reduce its plastic usage."
The store is also successfully running another plastic waste reduction scheme with Ecover cleaning products, providing refills on the brand's liquids to customers who bring in containers.
Stephen, his sister Louise Prideaux and parents Peter and Jill, are directors of Porlock Fayre in the town's high street and moved the 1,200sq ft store to Spar 18 months ago after 15 years under Costcutter.