Camelot is introducing a new-look EuroMillions game which it said would result in more opportunities for retailers to boost their sales and commission.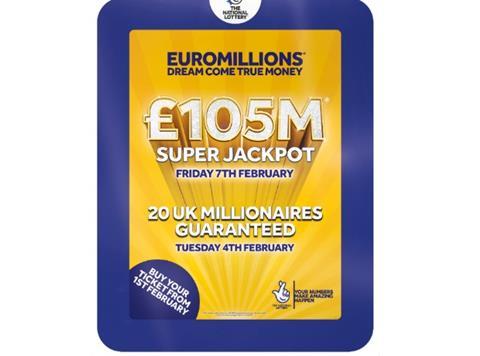 Changes to the rolling jackpot game coming into effect on Saturday (1 February) will see more prize money going into the jackpot and a prize cap increase to €200m (up from €190m currently).
In addition there will be more special promotional draws, which will be held an average of three times a year versus the current two, offering guaranteed jackpots of around £100m.
Camelot is running two special EuroMillions draws during the launch week, with 20 UK Millionaires guaranteed to be made on Tuesday 4 February, while a super jackpot draw on Friday 7 February will see a guaranteed jackpot of €130m (an estimated £105m) up for grabs.
Camelot retail partners can also earn an extra £10 for uploading a picture of their sited EuroMillions POS to the Retailer Hub (www.tnlretailerhub.co.uk). This will run until Friday 7 February.
Camelot's retail director Jenny Blogg said, "The new changes to EuroMillions aren't just great news for players, they're great news for our retailers. We regularly see significant sales increases around bigger EuroMillions jackpots, and with the likelihood of that happening more often, National Lottery retail partners can expect boosted commissions and higher footfall, resulting in increases to their bottom lines.
"On top of that, we're expecting a boost to Good Causes thanks to the changes. This will be in addition to the, on average, over £30m a week our retailer partners already help us raise for Good Causes projects right across the UK."
There will be no change to the ticket price – it will still cost £2.50 to play – or to the numbers to choose from, the number of prize tiers and the odds of winning.