The government should introduce standardised packaging for sugary foods and extend the Soft Drinks Industry Levy to milk-based drinks with added sugar in a bid to cut childhood obesity, England's chief medical officer has recommended.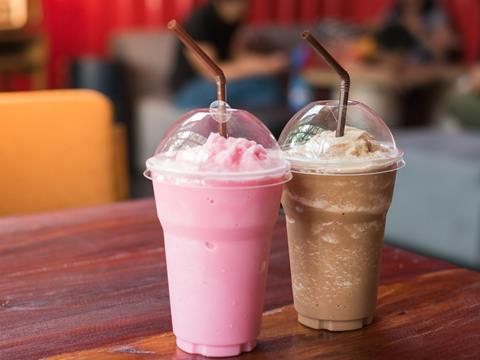 In her last report before stepping down from her post this month, Professor Dame Sally Davies' set out a range of "bold" recommendations which she said could help the government build on its existing Childhood Obesity Plan and hit its target of halving childhood obesity by 2030 – a goal which she claimed England was currently "nowhere near achieving".
In a bid to "rebalance food sold to favour healthy options through regulation," Davies recommended that the government extend the Soft Drinks Industry Levy to sweetened milk-based drinks with added sugar.
She also urged the government to accelerate the current voluntary reformulation programme, overseen by Public Health England, and if sufficient progress was not made, to apply either standardised packaging or a "fiscal lever" to sugary food and drink products.
Following the UK's exit from the European Union, an urgent review of VAT rates on food and drink should also take place, in a bid to rebalance the cost of food and drink in favour of health, she added.
The review should ensure that healthy foods continued to have no VAT applied and consider a tiered VAT approach, so the unhealthiest products had a higher rate of VAT, which could be used to subsidise healthy food, starting with fruit and vegetables.
Davies also called for an end to "all marketing, advertising and sponsorship of less healthy food and drink products," across all mediums.
Eating and drinking on urban public transport, except fresh water, breastfeeding and for medical conditions, should also be banned, she claimed, while free water refill schemes should be available in all food and drink retail sites.
Responding to the report, Association of Convenience Stores (ACS) chief executive James Lowman said: "The convenience sector has made significant progress in providing more fruit and veg and healthy alternatives for customers, including through the extensive investment in refrigeration.
"We have worked with the Food Foundation on promoting best practice in the sector, celebrating retailers investing in fresh food options and publishing guidance encouraging more stores to accept Healthy Start vouchers.
"We are also currently working on Assured Advice to help retailers understand their options around water refills, which we see as a positive development for the sector but is not without its operational challenges."
The Food and Drink Federation's head of diet and health policy, Kate Halliwell, added: "UK food and drink manufacturers are working hard to implement what has already been asked of them by government in three chapters of a Childhood Obesity Plan published in just three years.
"As Public Health England acknowledges, reformulating products takes time, and we must always take the consumer with us. We want government to support us in this work and not introduce punitive measures which might hinder it.
"We agree more needs to be done to tackle obesity, and welcome the report's clear steer that everyone needs to play their part, including schools, local councils and the NHS. Manufacturers alone will not solve this. We believe money should be put behind specific, targeted measures for those most affected by the burden of obesity."
The full Time To Solve Childhood Obesity report can be seen here.