Central England Co-operative has donated enough food to create over 11,000 meals and emergency care packages for people in need, as part of the society's two-week Easter food bank appeal.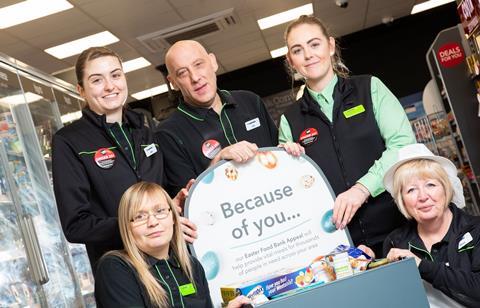 More than 32,000 items were dropped off at special collection points in over 200 Central England Co-op food stores earlier this month, in an effort to get shoppers to donate everyday items to support local food banks.
The collection saw people donate a range of products including UHT milk, cereals and tinned meat to toiletries, sanitary items and chocolate treats.
Central England Co-operative chief executive Debbie Robinson said: "Everyone involved with Central England Co-op would like to say a big thank you to the kind and generous customers who helped collect over 32,000 items for our food bank partners.
"This amazing result now means that over 11,000 meals and care packages can be created, which will make a make a major difference to people from all walks of life."
She added: "As a co-operative, we are proud to be able to support the great work of local food banks across our trading area during Easter and throughout the year. We now want to ask people to continue to support our food banks during 2019 so we can keep providing vital donations to good causes that can really make a positive impact on those in need."
Central England Co-op has permanent food bank collection points in hundreds of its stores, with collections being made every month.
The society now works with more than 50 different food bank partners to provide emergency food and support to individuals and families in crisis throughout the year. Last year, Central England Co-op customers donated 250,000 items – helping to create 100,000 meals for people in need.