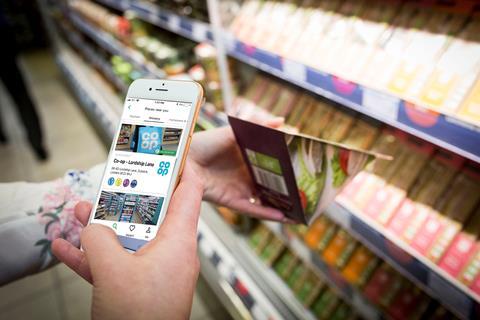 The Co-operative Group has joined an ethical living app called CoGo which links shoppers to local stores that are aligned with their values, on the back of the consumer trend towards more ethical living.
A total of 286 London Co-op stores now feature on the CoGo app which is also linked to consumers' payment cards, allowing it to show customers how their spending in selected stores is "contributing to good".
Co-op customer director Ali Jones said: "At Co-op we've been taking action on what matters most for decades.
"The products we sell impact millions of people, communities around the world, as well as the planet and that's why we work hard to make our products different, we always have done. To make them good for our customers, and the planet we share.
"Joining up with CoGo is a natural fit for Co-op and we are passionate about taking action on the issues our customers and members care about."
A Co-op spokeswoman confirmed that CoGo was being trialled in the London stores with no plans to extend it beyond Co-op owned stores for now.
The Co-op, which has pledged to make all packaging recyclable by 2023, launched its sustainable 'Future of Food' strategy to 2030 last year.
According to HIM's latest Future of Convenience report, plastic pollution and responsible retailing are among the key drivers of change that retailers are going to have to get to grips with to meet the needs of modern shoppers.
New data from Central England Co-op also suggests that shoppers are increasingly turning to Fairtrade products.
Data from the society shows that shoppers spent £7.4m on Fairtrade products at Central England Co-op Food Stores in 2018, 14% more than in the previous 12 months.
The figures also reveal an increase in customer spending on Fairtrade products during the 2018 Fairtrade Fortnight itself, up 12% from 2017, showing the positive effects the annual awareness campaign, currently running between 25 February to 10 March, has on shoppers.
The top 10 best selling Fairtrade products in Central England Co-op Food Stores in 2018 were:
1. Co-op Fairtrade Bananas
2. Tate & Lyle Fairtrade Pure Cane Sugar
3. Co-op Fairtrade Chocolate Brownies
4. Co-op Fairtrade Long Stem Rose
5. Co-op Fairtrade All Butter Flapjacks
6. Co-op Fairtrade South African Chenin Blanc Wine
7. Co-op Fairtrade Sauvignon Blanc Wine
8. Co-op Fairtrade Rich Roast Coffee Granules
9. Co-op Fairtrade Cape Chardonnay Wine
10. Co-op 160 Fairtrade 99 Tea Bags