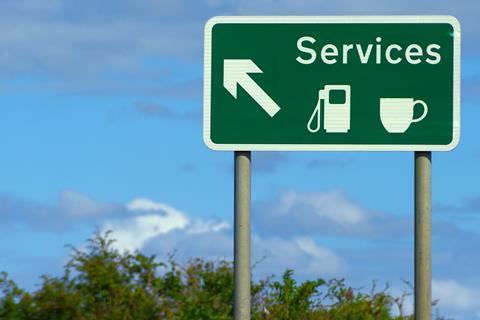 With Boris Johnson's announcement to ban the sale of petrol and diesel cars in 2030, and the UK government's commitment to invest £1.3billion into EV charging infrastructure, the electric revolution will soon be upon us.
So how will forecourt use change? With the first of 100 planned electric-only forecourts in the UK set to open this month, forecourts will no longer be a quick 'fuel and go' - rather they will become customer experience 'destinations' offering retail, hospitality, business facilities, social hubs and more.
Why have traditional forecourts struggled to implement EV in their offering?
There have been concerns surrounding the viability of electric vehicles when it comes to charging. Although many service stations have the option to install EV charging points, this has been slow on the uptake. The service station footprint also needs to be big enough to accommodate the chargers themselves which require them to be positioned at a distance from petrol / diesel pumps to comply with health and safety regulations. This may sometimes be at the expense of other facilities such as car washing facilities. In addition, power supply may be an issue with charging points either needing to be connected to their own power supply, or to the local grid if there is capacity, but only able to offer a maximum 15kW capacity.
With most service stations only having a maximum of two EV charging points, this means limited charging and a lengthy wait for the customers. Even with rapid charging at 50kW, an EV takes approximately 30 minutes to charge from zero to 80% suggesting a maximum of four EVs charging per hour. Compare this to petrol / diesel, which can service approximately 96 customers per hour based on an average eight fuelling pumps and a refuel time of less than five minutes.
Unlike traditional forecourts, purpose-built electric-only forecourts built on motorways, trunk roads and urban conurbations will be designed to offer a "fully loaded customer experience". These 'retail hubs' will offer more than just simply fuel and convenience. Amenities including shops, cafes, wellbeing areas, business lounges, children's areas and washrooms will be on offer to facilitate customers whilst they wait for their electric vehicles to charge. In addition superfast charging facilities delivering up to 350kW will be on offer, with power generated through on-site electrical substations. Designed with EV charging as their main purpose, not as an addition to liquid fuel, these electric charging stations will encourage the uptake of EV in line with the UK government's commitment to going green and reducing carbon emissions.
Convenience is king, and time is money
What we have learnt already from petrol forecourts is that customers want to utilise their time more efficiently. With price and location as key considerations, forecourt operators need to turn their attention to providing added value to their customers through loyalty programmes, non-fuel retail (NFR) and the overall customer experience to set them apart from their competitors.
Research by Mintel estimates that convenience sales will grow by almost 8% in 2020 - compared to the 3% achieved in 2019. Convenience retail is growing as a sector, with changing consumer spending patterns contributing to longer dwell times. There is evidence that already forecourt owners are seeing an increase in the number of transactions but with a lower basket spend, suggesting more visits from customers which are less motivated by fuel.
Retail sites are long established in motorway and trunk road service stations offering fast food and beverage offerings - Burger King, McDonalds, Starbucks or Costa Coffee are all commonplace. Equally, co-locator supermarket alliances such as Shell and Waitrose or BP and Marks & Spencers are becoming more prevalent - exploiting longer dwell times into sales.
The new breed of electric-only forecourts will take this to the next level - offering a 'one stop shop' destination experience with the inclusion of shops, cafes, meeting rooms with comfort, cleanliness, convenience and safety all priorities - 'service' stations in every sense of the word.
The importance of analysing retail data
Forecourt retail has already evolved from the traditional 'fuel and fags' to a more sophisticated, blended convenience retail mix. Analysing retail data can provide important insights for forecourt operators when optimising their offering. As the number of different items in forecourt stocks rises, it will be vital to be able to understand customer spend data as well as price sensitivity per category or item, allowing forecourts to adjust their merchandising accordingly.
Larger merchants and grocers especially are well equipped for this, but smaller retailers are often dependent on suppliers with vested interests to advise on what to stock and where.
For a retailer to understand their customers based on what they spend with them and ideally what they spend elsewhere means the retailer can make decisions based on what they know, not what they think will be most effective.
'Headroom analysis' is a good example of this - a retailer may know that a customer buys fuel from them, but do they know where else the customer buys fuel and what percentage of the fuel the customer buys, they buy from our example retailer?
Suresite data shows that this year there has been less demand for fuel with people unable to travel due to local and national lockdowns. At the height of the Covid-19 pandemic we also saw a decrease in the number of transactions, with people unwilling or unable to leave their homes. However, in recent months we have seen a steady rise in forecourt transactions to above pre-Covid levels. Customers are now looking to fulfil multiple purposes in a single trip with a much increased appetite for cashless transactions - presenting a perfect opportunity for forecourt operators - electric and petrol / diesel - to increase their NFR offering to meet consumer demand. Convenience stores, watch this space, your forecourt equivalents are coming for you.