Eva Jones, head of product development & innovation at Suresite Group, shares tips for how convenience retailers can capitalise on their recent growth by enhancing their customer experience and satisfying consumer needs.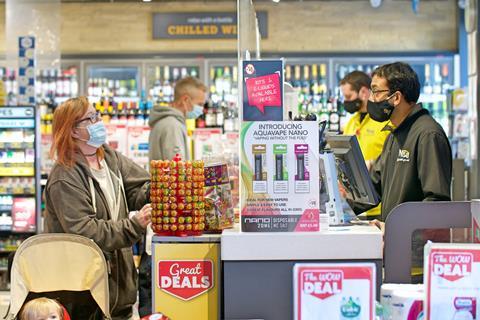 The convenience sector has flourished over the last twelve months as consumers have changed their buying behaviour as a result of the Covid-19 pandemic. Where a weekly trip to the one of the supermarket giants was the norm, many have now turned to smaller, independent local stores where they feel safer.
This change in shopping behaviour has led to a £3.8bn boost for 2020 according to the UK Convenience Market Report from Lumina Intelligence, meaning the UK convenience retail market is predicted to reach a value of £46bn by 2023.
For smaller independent retailers keen to maximise their business potential, there has been no better time for them to increase their offerings. Delivery services have been just one of the trends that have emerged from the pandemic as many customers have been unable/unwilling to leave their homes. Through partnerships with grocery delivery services such as Snappy Shopper, even smaller local convenience stores have been able to offer this service - often more competitively than the supermarket leaders.
But the key will be ensuring that these newly formed shopping habits continue in a post-Covid world.
Promote an omnichannel experience
Across the whole of the retail sector, having an omnichannel strategy has become more important than ever. Consumers want to be offered options on where they can shop - whether that's online or in-store. Having spent a lot of the last year confined to the four walls of our homes, many consumers had no choice but to shop online, and if the customer experience has been good - or even better than the previous one - then it is likely that this trend is set to continue.
Any online offering should compliment that of the in-store to create a seamless customer experience. For convenience retailers, having a mobile app is a great way of connecting with your target audience. Not only can you reach them at any time of day, wherever they are, but it also allows you to promote special offers and services that they may not find out about unless they visit the store.
This can also be extended to offering a delivery or click-and-collect service which can be accessed through the mobile app or online. Important considerations to bear in mind if offering this service are:
Availability of delivery slots;
Availability of products;
Ease of use;
Competitively priced delivery service;
Customer service experience from the delivery driver.
The power of in-store merchandise optimisation
Our first impressions are formed before we even step foot inside the store so attention should be given to the store-front, not just its interior. It should be clean, well-lit, tidy and welcoming.
For independent retailers, it's important to create an intuitive store layout to maximise customer purchases and to add to the overall customer experience. It may seem obvious to group products together that are part of the same category, but a planogram will help with deciding upon your store layout to get the most out of your product placement.
Also category adjacencies, where products that compliment each other are placed next to, or opposite each other, is a great method of upselling. For example, placing crisps close to the ready-made sandwiches can motivate an additional lunchtime purchase.
Why you need to understand your customers
The only way to truly understand your customer's spending behaviour - what they want to buy, when and how - is to gain insight into transaction data. Introducing a customer loyalty programme is a great way to gain access to this, with a dual benefit for your customers by rewarding them for choosing to shop with you. This can be through money off coupons, special offers, or partner rewards.
Another way to gain insights is through payment data. It's important to choose payment partners who can share payment data in an easily digestible format. Looking towards the future, payment providers are striving to offer retailers SKU-level data which will provide insight into each customer's shopping basket, item by item, allowing retailers to create even more targeted and personalised offers.
Sustainable consumerism is the future
One positive thing that has come out of the Covid-19 pandemic is a drive towards sustainability. For retailers, demonstrating corporate social responsibility (CSR) encourages a greater emotional connection meaning consumers are more likely to shop with brands who demonstrate a social conscience.
The British Retail Consortium's Climate Action Roadmap aims to bring the retail industry and its supply chains to net zero by 2040. For convenience retailers, the opportunity to partake in initiatives like this is a fantastic way to show their commitment to environmental issues.
Using eco-friendly delivery vehicles, reducing packaging, and using sustainable packaging are all ways of proving a commitment to the cause. Above all, it's important to educate your customers on why you are choosing sustainable practices so they understand the benefits for not only you as a business, but for them too.
Smaller independent retailers have the upper hand when it comes to responding to change. Unlike the big supermarket giants, or even franchises, decisions can be made in-house and acted upon without a multitude of decision-makers being involved in the process.
It is this autonomy that lends itself well when learning and acting upon what customers want. If a certain range of products is selling well or customers are requesting them, then it's a simple decision as to whether they should be stocked or not. If the layout of the store would lend itself better in a different format, then it can be changed. Special offers and promotions can be localised to suit the customer demographic, for example stocking Kendal mint cake in the Lake District should be a given to suit the tourist trade but may not be an option when part of a larger retail chain.
The last twelve months has allowed convenience retailers to prove that they can hold their own in a sector that has been dominated in the past by the well known supermarkets. By adapting to consumer needs, remaining agile in their offerings, and by listening to what their customers want, the future for independent convenience retail is one that is certainly looking positive.
If it takes 66 days for a new behaviour to become automatic - a new habit to be formed - then independent convenience retailers are well on the way to securing the long term commitment from their loyal base of customers to ensure this sector continues to grow.