Surya Foods is introducing a range of hot sauces and snacks under the Thai Dragon label.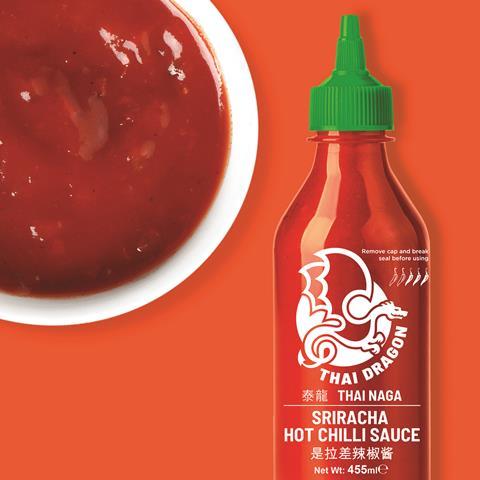 The sauces are in a classic Thai sriracha style in a bottle made of 100% recyclable plastic, and a price point designed to be competitive.
The products are: Thai Dragon sriracha hot chilli sauce original 455ml (rrp £3.10); Thai Dragon sriracha hot chilli sauce wasabi Flavour 200ml (£1.90); Thai Dragon black fire extra hot chilli sauce 455ml (£3.10); Thai Dragon sriracha chilli mayo sauce 200ml (vegan, rrp £1.90); and Thai Dragon sweet chilli sauce 455ml (£3.10).
The brand family also includes spicy crackers Thai Dragon sweet chilli prawn crackers (100g) and Thai Dragon thai cracker mix (100g).
The full range is available to independent retailers via Surya Foods' online wholesale catalogue.
The launch is being supported by a contemporary consumer facing website and a social media campaign titled #ridethedragon which includes consumer competitions and online giveaways. The brand is also working with online social media influencers to reach its target audience.
Surya Foods managing director Harry Dulai said: "Sales of hot sauces have been growing ahead of Eating Enhancers at an impressive rate of 9% year on year for some time.
"During the last 20 years, in response to the UK's growing love of international cuisine, Surya Foods has moved from simple rice production to offering an impressive catalogue of leading brands from around the world.
"We are passionate about authentic tasting food and have poured decades of expertise into Thai Dragon to bring UK consumers a genuine taste of Thailand."