Dr. Oetker Professional has added a new vegan pizza to Chicago Town's takeaway range.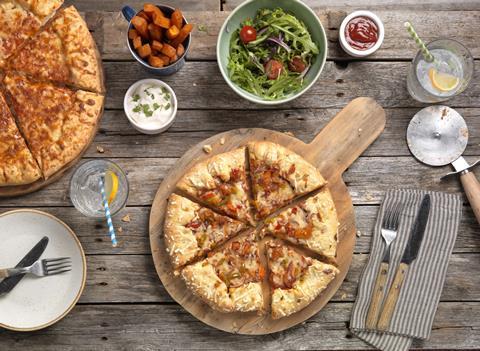 The launch of Chicago Town's Stuffed Crust Sticky BBQ Jackfruit Pizza is aimed at enabling retailers to meet the growing demand for vegan 'dirty' food.
Made with a rising dough, Chicago Town's tomato stuffed crust is loaded with jackfruit, covered in a sticky BBQ sauce and topped with dairy-free mozzarella.
Dr. Oetker Professional (UK) senior brand manager, Richard Cooper, said: "With 22 million people in the UK now following a flexitarian diet (Waitrose Food & Drink Report 2018/19), the appeal of plant-based dishes is soaring and many consumers are on the lookout for plant-based versions of their favourite comfort foods from pizza to mac 'n' cheese.
"As the foodservice go-to pizza experts we've launched the Sticky BBQ Jackfruit Pizza to help operators get a slice of the plant-based action and start driving profitable sales."
The 10 inch vegan pizza joins Chicago Town's other takeaway flavours, including the Cheesy Stuffed Crust Loaded Cheese and Loaded Pepperoni lines.
Vegan fast food has become the fastest-growing takeaway option with orders rising by 388% in the last three years (British Takeaway Campaign), according to Dr. Oetker.