Budweiser Brewing Group has expanded its range of no and low alcohol beers with two new lines - Budweiser Zero and Stella Artois Alcohol Free.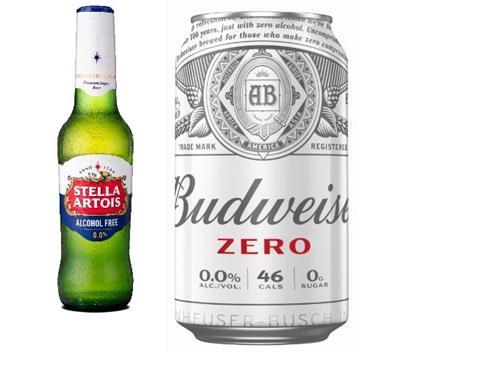 Budweiser Zero, at zero alcohol, zero sugar and 46 calories, is brewed with the same ingredients as the parent brand and also uses the same beechwood ageing and cold filtration techniques. It replaces the current Prohibition zero alcohol line in the Budweiser portfolio.
With zero alcohol and 60 calories, Stella Artois Alcohol Free is the latest expansion of the range, designed to suit new consumer preferences and occasions.
Budweiser Zero will be available in in 4 x 330ml can format, while Stella Artois Alcohol Free will be available in a 4 x 330ml bottle format. The Budweiser product is widely listed already, while Stella Artois Alcohol Free is currently available at the Co-op, with additional wholesale listings anticipated later in the year.
The alcohol-free beer and cider market has grown by 147% since 2015 and is now worth £77.4m a year in the off-trade, says Budweiser. Stella Artois Alcohol Free launched in the on-trade earlier this year, with Budweiser Zero set to launch once pubs are re-opened.
Elise Dickinson, marketing manager at Budweiser said: "At Budweiser we pride ourselves on being the 'King of Beers' – and we know that while consumers are increasingly looking to enjoy low and no versions of their favourite products, they won't compromise on taste. That's why Budweiser Zero was created using the latest developments in no-alcohol brewing and following years of taste testing. We are thrilled to add a smooth alcohol-free beer with all the taste but with zero alcohol or sugar, and a low-calorie content, to the Budweiser Family. Now, more people than ever can enjoy a Budweiser beer in any occasion".
Ali Humphrey, director Stella Artois Europe added: "We're excited to launch Stella Artois Alcohol Free to the market, the most recent addition to our expanding La Famille Artois. Our Brewmasters have taken 600 years of Belgian brewing heritage and combined it with our best, all-natural ingredients, to create an alcohol-free lager that is bursting with flavour. The result is a pronounced hoppy bitterness and a crisp, clean and refreshing finish - but without a drop of alcohol and 60 calories."