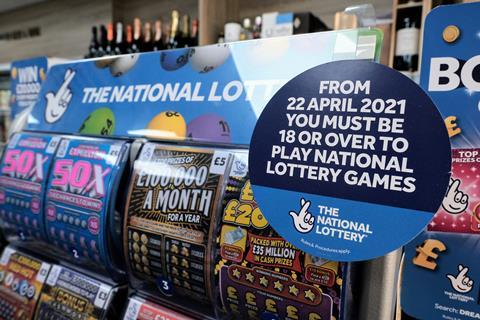 The change to the minimum age to play National Lottery games has come into effect.
The age to play all National Lottery games is now 18 years or over, despite the change in legislation not coming into effect until October 2021.
National Lottery operator Camelot outlined the support it has been offering retailers ahead of this change.
A Camelot spokesperson told ConvenienceStore.co.uk: "To make the change to 18+ as easy and as smooth as possible for our retail partners, our sales teams have been going into stores since the beginning of March to help them be fully prepared for the change. As part of this, we've designed, produced, printed and sent out millions of new pieces of consumer-facing Point of Sale (POS) material highlighting the new age to play, as well as manufactured new fixed signage and POS of sale equipment. And our retailers have done a great job in highlighting the age change to their customers."
The spokesperson added: "It's also worth remembering that the new 18+ age to play rule will bring National Lottery products in line with the purchase of other age-restricted products (such as tobacco and alcohol) – so this change will actually help to keep store age verification policies consistent across all products being sold in store."
Retailers are also advised that full, ongoing support to address any needs they may have is available from Camelot. It has put in place further training material, including e-learning modules, on its dedicated retailer website – the National Lottery Retailer Hub. And, if retailers can't find the answers to their queries on the Retailer Hub, they can call the Retailer Hotline on 0800 8 40 50 60.