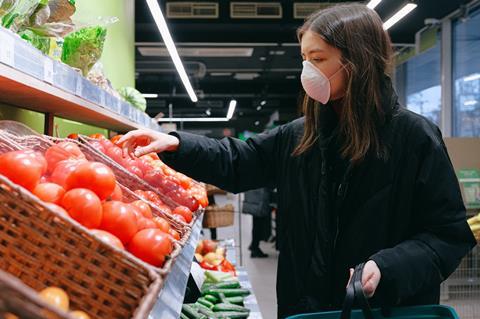 Proposals to restrict the produces sold in stores in Wales as it heads into a 'firebreak' lockdown have sparked anger and confusion from the retail industry.
The firebreak, announced earlier this week, is designed to stop the spread of coronavirus.
Under the firebreak regulations, shops allowed to remain open include supermarkets and other food retailers, pharmacies, banks and post offices. However, the government advises that wherever possible people should avoid unnecessary visits to these, and use alternative approaches such as online services and deliveries.
These measures will be in place from 6pm Friday 23 October until the start of Monday 9 November 2020. Although no list of non-essential items has been published by the Welsh government, it is expected to form part of its firebreak guidance that will hopefully be released before 6pm on Friday when the regulations take effect.
What does the firebreak entail?
people must stay at home, except for very limited purposes
people must not visit other households or meet other people they do not live with
certain businesses and venues, including bars, restaurants and most shops must close
secondary schools will provide learning online only for the week after half-term, other than for children in years seven and eight. Primary schools and childcare settings will remain open.
face coverings continue to be mandatory in the indoor public spaces that remain open (subject to certain exemptions and exceptions), including on public transport and in taxis
Association of Convenience Stores (ACS) chief executive James Lowman said: "Retailers must not be forced to stop making products available to customers just because Ministers don't think they're essential. These regulations are badly thought out, providing little to no notice to retailers, and must be scrapped to avoid chaos in shops across Wales. The confusion and confrontations between customers and shopworkers that this rule will trigger will ultimately lead to more contacts and time spent in proximity to other people, which is the exact opposite of what Ministers are aiming to achieve."
Head of the Welsh Retail Consortium Sara Jones added: "Compelling retailers to stop selling certain items, without them being told clearly what is and what isn't permitted to be sold, is ill-conceived and short-sighted. We hope Ministers will rethink this particular part of their fire breaker plan."
In a letter to the First Minister of Wales, the ACS and the Welsh Retail Consortium outlined their concerns about the proposals. Offering to discuss the situation with all parties, it highlighted the pressures this would put on retailers.
"To date, all discussions between your officials and industry about the firebreak has been focused on the closure of types of business premises, not products. This last-minute change in policy approach will place huge additional operational pressure on the retail sector, our store colleagues and ultimately customers.
"Attempting to define, restrict and communicate the sales of non-essential products to our customers and colleagues with less than 36 hours' notice is a near impossible task, more so with no clarity or guidance from government on what such non-essential products are. This policy will also put our colleagues in the difficult position of having to refuse the sale of certain products in store that could be a flashpoint for violence and abuse, which has spiked during this pandemic."
The letter went on to explain the impact it would have on stores and staff as well as the potential for having the opposite effect intended.
"Stores will have to review thousands of products lines at incredibly short notice. This will also result in store layouts having to be reviewed that could undermine the safe flow of customers in store environments, the very antithesis of what your government is trying to achieve and what our members have strived to implement.
"We are concerned that the restrictions of product sales will also result in consumers having to make multiple shopping trips, instead of being able to visit one store and make multiple purchases. We urge you to urgently revise this policy approach and instead work with the industry to keep essential businesses open and support non-essential businesses to use other channels to serve customers during the firebreak."
It urged more information on the issue for retailers. "If you do go ahead with this policy, then at very least we need today the most comprehensive list possible of what can and cannot be sold, a understanding approach from enforcement bodies, and a commitment to an immediate communications campaign by the Welsh Government so that consumers are more likely to be aware of these restrictions before they visit stores."
The British Independent Retailers Association (Bira) also expressed frustration over the confusion in the regulations.
CEO Andrew Goodacre said: "Although Bira is against closing non-essential shops in Wales (because shopping has never been safer), we have worked with the authorities to ensure that the implementation of this two-week circuit break is as smooth as possible.
"It is therefore really disappointing that critical changes have been made just days before shops are to close. Furthermore, earlier this week we were clearly told that homeware shops were classed as 'essential' and now, we are told they are not.
"To add to the confusion, shops remaining open can not sell non-essential products during the circuit-break, even through a click and collect service.
Goodacre said the changes would be a logistical and operational challenge for all retailers.
He added: "Retailers need certainty and an opportunity to plan. Businesses that were under the impression they could carry on meeting the needs of their communities are now being told they have to close and other are being asked to edit their product lines and store layouts with less than 36 hours to go.
"The lack of clarity and notice is reminiscent of the national lockdown in March and it looks as if the Welsh authorities have not learned any lessons from that."
Level-playing field
Earlier this week, head of external affairs at the Federation of Small Businesses (FSB) Ben Cottam told The Daily Post that only larger supermarkets should face restrictions to provide a level-playing field. "It is FSB's view that if large supermarkets were able to continue selling non-essential items at a time when their small business competitors on the high street are forced to close, this will create an unacceptable advantage for those large retailers and particularly as we are now in the run up to Christmas.
"All we ask for – and all businesses expect – is that there is a level playing field for all businesses in Wales as a result of the lockdown, and that large supermarkets are not given a head start against Wales' independent firms who are already fighting so hard to survive."