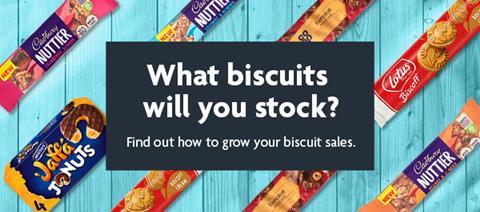 Nisa Retail has teamed up with Pladis to help independent retailers get more bite from their biscuit sales.
The biscuit manufacturer has launched a trial with a selection of Nisa stores in an effort to increase sales and help maximise their biscuit fixture through range optimisation and merchandising recommendations.
The Better Biscuits initiative is running across eight Nisa stores for eight weeks throughout July and August. The trial, which is now live, will see new planograms implemented alongside refreshed ranges with results carefully analysed over the course of the two months.
Store managers will feed back, and any learnings will be shared to help other Nisa partners benefit from any trial successes.
Marketing manager for category growth wholesale Claire Parker said: "Biscuits is an important category in convenience with the largest penetration across all snacking categories and bought by 99% of households. It also has the highest frequency within snacking, bought almost 10% more often than chocolate, confectionery and crisps."
Charlotte Prain at Pladis added: "Partnering up with Nisa to trial the new Better Biscuits category initiatives and recommendations for 2021 has been fantastic.
"After a tough year, the 5 Steps to Better Biscuits will help retailers to get back to basics, with range recommendations for the best-selling biscuits, optimised planogram layouts by fixture size and location, and tips and tricks to help drive category sales."