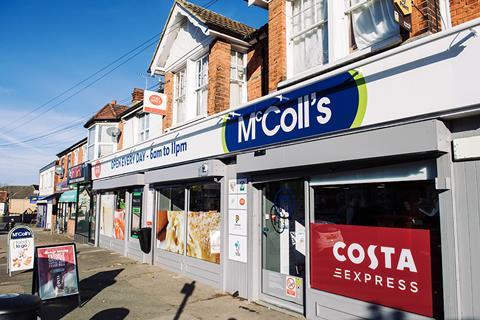 Morrisons has officially taken over McColl's, saving its staff and stores.
Confirmed by the supermarket, the deal successfully transfers all 16,000 staff, 1,100 shops across the UK and also includes Morrisons agreeing to rescue McColl's two pension schemes which have more than 2,000 members.
Morrisons chief executive David Potts said: "Although we are disappointed that the business was put into administration, we believe this is a good outcome for McColl's and all its stakeholders. This transaction offers stability and continuity for the McColl's business and, in particular, a better outcome for its colleagues and pensioners.
"We all look forward to welcoming many new colleagues into the Morrisons business and to building on the proven strength of the Morrisons Daily format."
The sale was announced on Monday 9 May as PwC was officially appointed as administrator of the business which consists of McColl's Retail Group plc, Martin McColl Limited, Clark Retail Limited, Dillons Stores Limited, Smile Stores Limited, Charnwait Management Limited and Martin Retail Group Limited.
According to PwC, Morrisons Wholesale supply agreement will continue in place after the transaction to minimise disruption to customers and employees as all stores will continue to trade.
Rob Lewis, joint administrator and partner at PwC, said: "Especially during the current economic climate, the completion of this transaction provides much needed certainty to McColl's 16,000 staff after a period of understandable concern following the Group's challenges over the past months. As well as saving thousands of jobs, this deal secures a platform for the trustees of the Group's pension schemes to enter into arrangements which will protect the pensions entitlements of so many people. All in all a really positive outcome."
Rachael Wilkinson, joint administrator and director at PwC added: "Having successfully secured this deal our role will now prioritise continuity of data and key systems alongside liaising with landlords and other key creditors.
"The transaction also includes an obligation on Alliance Property Holdings to rescue the company's pension schemes, with Wm Morrison Supermarkets Limited acting as guarantor going forward."
This follows a tumultuous week in which McColl's confirmed it would not be publishing its annual report at the end of May before warning that administration was imminent. The administration announcement was made on Friday 6 May which sparked a bidding war between Morrisons and EG Group which was ultimately won by Morrisons.