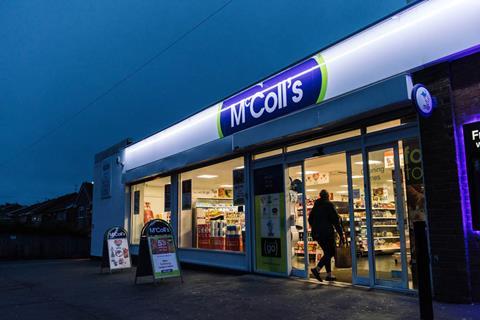 Convenience chain McColl's has confirmed it is in talks to source funding to secure the future of the business.
Following media reports that revealed that McColl's is looking to raise capital or face collapse, with 16,000 staff across 1,165 stores at risk, the group confirmed that it is in talks with banks regarding its financial situation and that there has been an approach for the business as well as interest in parts of the operation.
It said: "The Group continues to believe that a financing solution will be found that involves its existing partners and stakeholders. However, there are also other options available to it. The Group confirms that it recently received an approach for the whole business, which has subsequently been withdrawn and there are no further discussions with that party or any other party in relation to an offer for the whole business. In addition, the Group has also received indications of interest for parts of the business. The Board will consider all options with the aim of maximising value for all stakeholders."
In its full year 2021 trading update for the 52-week period ended 28 November 2021, published in December 2021, McColl's reported that its FY21 revenue declined by 11.2% to £1.11bn, compared to FY20 revenue of £1.25bn, which it attributed to supply chain disruption in the second half and the conclusion of its store optimisation programme.
It said it expected revenues to continue to be affected in the new financial year. As part of its statement, McColl's reported a "tangible improvement of product availability in stores" but also a drop in footfall due to Omicron, resulting in revenues for the first quarter falling below expectations.
"The Group delivered two-year like-for-like sales growth of 5.9% in the 11 weeks to 13 February 2022, in line with the neighbourhood convenience market. The Group is starting to experience strengthening margin as impulse product sales recover, and has taken further mitigating actions, including a full review of pricing and costs."
McColl's was due to publish its full-year results at the end of March 2022 but now expects to publish in May 2022 to allow additional time for banking discussions to conclude.
The group also set out an increased target of Morrisons Daily conversions from 350 to 450 stores by the end of FY22, with "significant potential to further increase stores being explored across all store sizes". In February 2021, McColl's extended its wholesale supply contract with Morrisons by three years to January 2027.
McColl's is currently rolling out a strategy to strategy to become a "grocery-led convenience retailer", moving away from the newsagent format.