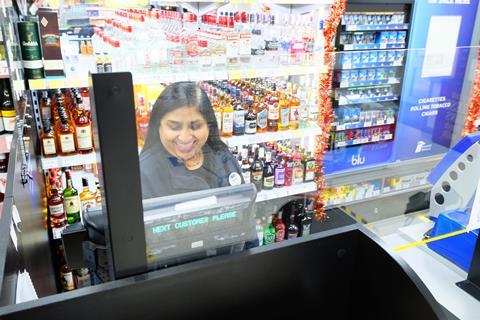 The One Stop chain has revealed details about its major technology roll-out across both its company and franchise stores. Franchise, finance and technology director Mark Everitt and head of technology Mark Denton spoke to ConvenienceStore.co.uk about the planning behind the roll-out and what it hopes to achieve.
The upgrade includes a new epos system, enhanced forecasting and ordering, electronic self edge labels and self checkouts in selected stores.
According to Everitt, the business has invested a significant amount in the roll-out. "We've invested millions into this, and that investment is with a company called Flooid who we've partnered with over the past two to three years. And really, it wasn't just around the software and the software development, because what we've done is we've upweighted all the hardware. So every franchisee had brand new hardware installed free of charge. We've covered that cost in effect.
"We've put a lot of time and effort into that to make it right for our franchisees. Also, as part of that whole rollout and investment, we've done dedicated training. Not as much training as we would like to have done because of Covid. We had a massive rollout plan and training plan, which we weren't able to implement, but we did do dedicated training to our franchisees to make sure that they were up to speed with the system. What we've also done is we've rolled it out into the company stores first. What that means is that any issues or any problems or any bugs were fixed in the company stores before it went to franchisees. What we've also done is installed Wi-Fi free of charge into everybody's store."
As part of the wider upgrade, One Stop has implemented a new back office system as well that allows franchisees to stay in touch with the head office easily. "We've also invested in something called MyStop, which in effect is an internet in the back office and we're able to use that for comms. It's now an online training portal because part of being a franchise is about being a responsible trader, and making sure everybody's health and safety records and, you know, asbestos and hardwire, etc. so we do a lot we do a lot of training and this legislation comes in, we make sure that our franchisees are up to speed on that."
Stock forecasting system
Everitt also outlined the changes to its Relex forecasting system. "We also invested in a a forecasting system which we did via a company called Relex which takes the stock files in the in the epos systems, works out what the order should be, and then puts that projection together. Therefore, we're able to project based on sales the new orders that the franchisees need. We got that in just before the first Covid lockdown. And that really did stand up to the to the hammering it got with all the orders at that time."
Denton explained how the system pulls in information that could impact the store's sales. "It's using more advanced algorithms to look into things like weather forecasts so it can predict sales and then your orders is generated. If snow's forecast or hot weather is forecast, your orders will automatically change or even if there's an event in your local area. It's quite an advance tool to we're using for forecasting.
"We've just launched a new model of it, which is around machine learning. So that will take into account as much information as they can find about the local the area , and it will start learning relevant information. We're getting to a place where we can take in all sorts of considerations it make the order forecasting better and better.
It pulls in weather and it uses that as part of its algorithm, as part of its learning, takes our sales data. It builds over time. It just gets better and better, understands our stores. The longer it runs, the better gets to the stores.
Reducing labour costs
Everitt explained the goal of the technology roll-out. "We want the system to grow sales and we want it to save time because a living wage is such a huge cost that we as a company incur. And so therefore, you know, anything that we can do to make it more efficient, to grow the sales to term, to remove the red tape and bureaucracy while staying safe and legal, we will do it for our company stores. Therefore, the benefit then flows through into the franchise stores."
He cites the Electronic Shelf Edge Labels as an example of this time-saving benefit and how if staff aren't worried about spending time printing and changing labels, their time can be utilised elsewhere.
Everitt also stressed that it wasn't about reducing staff. "We're not into reducing staff. We won't go towards lone working and we pay a living wage. For us, it's around investing in taking away processes that don't necessarily add value and channel that into time serving customers. We want staff looking after customers better and have managers on the shop floor rather than out the back, downloading or looking at reports."
Denton said this new system is class beyond what was there before. "The biggest problem was it was just old. It's a really solid platform and served us well for many, many years. But it was nearly 20 years old. Technology has moved on in that period of time to a point that it was running on old hardware, was running an old operation and getting stuck with it. And as we were starting to tackle some of these problems or issues of changes, we were dealing with it by designing solutions that will be overly complicated because you're working around the old epos system. So, we had to move on."
Everitt adds that he's proud of how the franchisee and store managers coped with the changes. "What was what was really pleasing was the fact that, they took to a new system in the middle of the pandemic and while they were all trading really hard in terms of sales."

Aidan Fortune is editor of ConvenienceStore.co.uk