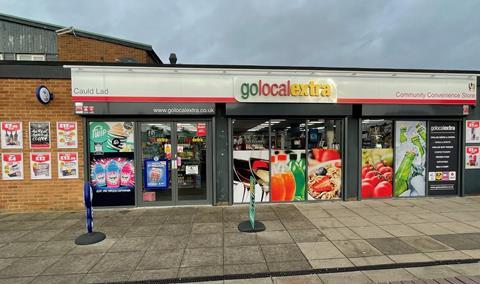 Independent retailer Ramalingham Sutheswaran has opened a new Go Local Extra store in Sunderland. It is the second Go Local store Mr Sutheswaran has opened in 2021 and his third store in the area.
The 1,500 sq ft Caithness Road store features a fresh groceries section, bakery, National Lottery counter and a dedicated alcohol sales area. The store also features a new look for food-to-go which includes hot food and drinks together with ice cream, smoothie and milkshake stations.
Ramalingham, or 'Ram' as he prefers to be known, worked in partnership with Parfetts to secure the site which was previously a pub and develop the new store.
He said: "There was no contest in making the decision to partner with Parfetts and Go Local again for my third store. I have worked with them so successfully already for a number of years, turning my first Sunderland store into a Go Local three years ago.
Since opening, we have already built up a regular customer base with a nearby school and the Nissan factory providing a steady stream of shoppers. We've very quickly built up regular customers which is something I take great pride in at all my shops and have always done. Parfetts have provided invaluable support throughout, helping to get the store ready with everything from layout and design to launch marketing."
Ram originally made the move to Parfetts in 2018 as a long-standing customer of the Middlesbrough depot while operating under the Bargain Booze fascia. He made the decision to join Go Local, as Parfetts reports store numbers surpass over 500 nationwide.
Steve Moore, head of retail at Parfetts, said: "We have worked in a close partnership with Ram to help develop his new store and give him the best possible start here, yet at the same time encouraging him to do what he is obviously very good at. The results have been excellent. As an experienced retailer, Ram really hit the ground running with his new store. The store is very appealing and makes great use of the space to deliver an overwhelmingly positive experience for customers combined with a trademark warm welcome. As a dedicated and talented retailer, we look forward to growing the business even further with Ram."
Ram concluded: "There's a lot of competition in the area from other retailers and to have had such a strong start to trading here bodes very well for the future. I have exciting plans for the store in terms of variety, choice and value-based promotions so I'm confident that we'll have a strong end to the year on the sales front."