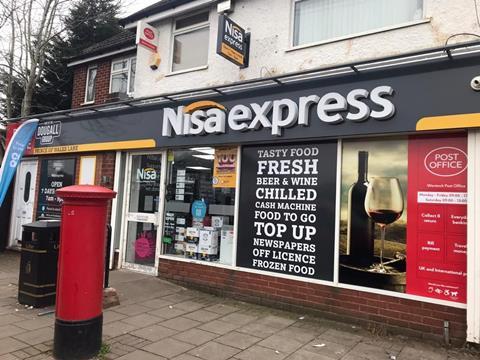 West Midlands-based Dougalls Group has opened its fifth store with the launch of a Nisa Express in Solihull.
The shop is the family's second Nisa symbol store in the Birmingham area with the others located in Coventry and it is their first store to incorporate a Post Office.
Previously a One Stop, Dougalls Group acquired the 1,000 sq.ft. store last summer and made a series of changes before re-launching as a Nisa Express in January 2022.
A full range review was undertaken with the introduction of an enhanced chilled and frozen offer and a significant increase of grocery and non-food offerings. The business has grown the promotional package available to shoppers while the own-brand range has been strengthened with the addition of a selection of Co-op products.
Head of retail at Dougalls Group Matthew Roberts said: "The key changes we have made initially to the business are to the range with a far improved offer to shoppers in terms of both the choice and the quality.
"We chose to partner with Nisa due to the flexibility it offers in terms of ranging and the breadth of range on chilled. The Nisa IT also gives us greater visibility of commercial data and allows the store team to be focussed on customer shopping habits and routines."
Nisa recently set out its goals for the Express format, hoping to increase the number of sites to 50 by the end of 2022.