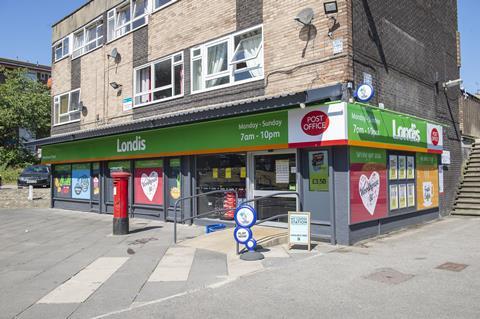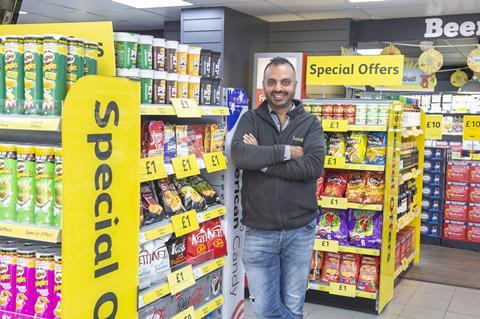 Londis Woodhouse Street in Leeds re-opened in March after converting to the symbol group's latest 'store of the future' format. Store owner Peter Bhadal worked with Londis to redevelop the 1,800sq ft store, which is located in a student-dominated part of the city. Results to date are impressive, with sales up by 25% year on year, and margins by 30%, owing to a greater emphasis on modern footfall drivers and higher-margin categories such as food to go. Ambient grocery has been reduced to create more space and increase the focus on the value message.
Food to go
The food-to-go area includes a hot pastry offer, large coffee machine serving all hot drinks at £1.80, a Snowshock Frappino ice coffee machine and a slush machine available in three flavours.
In addition, instant noodles are offered alongside free hot water, with a microwave available within the display for customers who want to heat their food to take away.
A Swan bakery fixture is positioned at an aisle end until late morning, before switching places with the lunchtime meal deal unit from which customers can buy a sandwich meal deal for £3.50.
"Traditional footfall drivers are in decline, so we wanted to make food to go and coffee prominent and smart-looking when you walk in the store," says Londis brand director Martin Swadling.
Fresh and chilled
Sales of fresh are up 50%, driven by Booker's Farm Fresh range and its Discover the Choice ready meals, which have gone down a storm. "One Waitrose shopper said our ready meals were fantastic, he comes in every day for them. To have that comparison blows my mind," Peter says.
More emphasis has been placed on chilled at the expense of ambient grocery, which has seen 300 lines removed. "Customers' reaction was 'have you extended?' because it feels like there's much more space."
Alcohol and gantry
The off licence offers an extensive range of chilled beers and wines, including on-trend craft beer cans, as well as stacks of beer cases.
An end-of-aisle promotional bay stocks a wide range of white and red wines, with bold POS highlighting prices. POS is also used to promote in-store events.
The gantry space now accommodates an increased spirits range, including premium lines. Sales of spirits have soared since the revamp and the display is enhanced by LED lighting.
Tobacco is now stocked in drawers underneath the till, with no detriment to sales, while a Vape Station sits alongside the spirits in the gantry.
Media screens at till point also highlight promotions within the store.
Emerging categories
Protein, free from and American confectionery are some of the on-trend categories the store has embraced and which sell well with the local student population.
Eye-catching POS highlights the health benefits of particular products, such as sugar-free soft drinks, gluten free, free from and protein lines.
"We wanted to highlight the health benefits of products at the point of purchase. Every Londis needs an element of protein and free from," Swadling says.
An American confectionery fixture combines well with regular and own-label sweets, he adds.