Eat 17 Hackney won the Best Large Store award at the Convenience Retail Awards 2017 - as well as the Innovation Award and Best Communication to Shoppers accolade.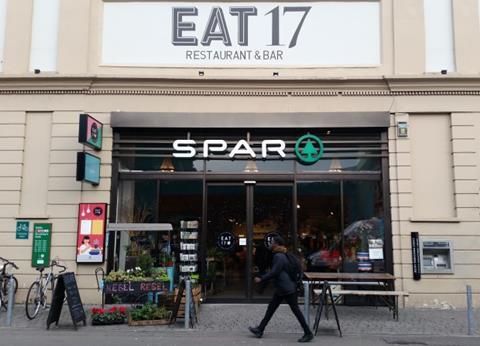 Fast approaching its second birthday this May, Spar Eat 17 Hackney is showing no signs of slowing down. In recent months the store has welcomed a butchery counter, installed a cinema upstairs, and revamped its off-licence and fresh produce. Famed for its wealth of niche lines and theatrical touches, the store has become something of a mecca for London hipsters. But its ability to strike a balance between premium-priced and Spar-branded lines gives the shop broad appeal. Store manager Giuseppe Deriu takes us on a tour of developments
Meat matters
The store opened its own butchery counter last year following customer demand for free-range, organic produce.
On average, butchery customers are spending about £20 per transaction.
Giuseppe says that middle-class families and commuters use the counter frequently. "They love the interaction with the butcher; finding out what to buy and how to cook it," he notes.
Eat 17-branded packaged meat from the butchery is supplied to all three Eat 17 stores.
Butchery staff also make up Eat 17-branded ready meals, which are available in all stores.
A special ageing cabinet shows where meat is hung for up to 60 days.
Burger bar
The burger bar boasts weekly sales of £4,000 plus.
The addition of the butchery counter means all burger bar products are free range and costs are still kept low because they don't need to go through a distributor.
The company teamed up with Deliveroo last year. Deliveroo takes a 27% cut, but makes up about half the orders on the burger bar with £2,500 in weekly sales.
The cake stand, which was previously where the butchery counter is, has been relocated alongside the burger bar, resulting in a sales boost.
Off licence
The store has recently created a new red wine section near the burger bar, doubling the range and introducing organic and biodynamic varieties.
The display is separated into two sections: familiar brands plus Spar own brand; and premium lines. Customers now can easily navigate the area according to preferences and budget.
Bottles of premium red are now displayed on bespoke scaffolding and sales of red wine are up 25% since moving the category.
Alongside the red wine display is the beer shop. There are seven beer suppliers from London microbreweries, plus the Spar range, which is regularly promoted. There are also more than 100 world beers.
Fresh produce
Following a revamp of the fresh produce section, weekly sales are up from £3,000 last year to £5,500 this year.
The fridge facing the entrance is now dedicated to fruit and veg. Giuseppe feels that this gives customers the perception of a healthy, wholefood-style store.
The fixture boasts a range of exotic products including Sicilian pomegranate, Cedro, Quince apples and Kaki Fruit.
LED strips were added to chillers to better highlight produce.
The store has five fresh produce suppliers, including those local to Hackney.
Innovation Award
The judges agreed that Eat 17 was a great example of a retailer that has not only come up with an innovative concept in the market, but have continued to develop that concept, bringing in fresh ideas on a regular basis.
Since the store opened it has revamped the off-licence area and fresh produce section, and added a butchery counter.
The store impressed judges with its continuous innovation which they said was "very evident", leaving them confident that given another 12 months the concept would have moved forward once again.
Best communication to shoppers
The originality of Eat 17's signage swayed the judges, with the quirky messaging playing a much greater role than making the store easy to shop and look attaractive.
Judges commented that while the signage was clearly bespoke, "it's still eye catching and professional–looking". Shelf bus stops are used effectively to interrupt shoppers, they agreed.
Communications aren't just price and promotion based, they pointed out, noting that there is real effort to communicate with shoppers on another level, including messaging about reducing waste and about the heritage of the site.
Source