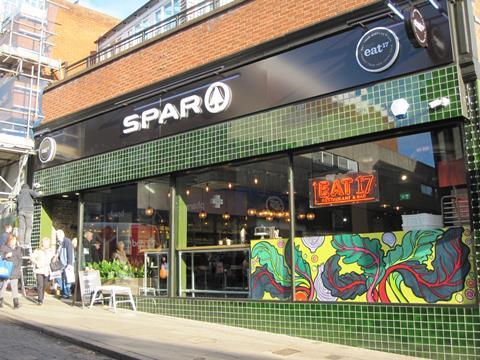 Burgeoning chain Eat 17 opened its fourth and largest store (5,000sq ft, including 3,000sq ft retail space) last month, in the Hertfordshire town of Bishop's Stortford. Already renowned for its innovation (and Bacon Jam), Eat 17's newest store takes the group's ambition to a new level. It offers an eclectic range of own brands and houses mouth-watering foodservice concessions, plus an Eat 17 bar. Sales have already hit nearly £30,000 a week on very healthy margins. Head of marketing Saskia Parks takes C-Store on a tour
First impressions
Fruit and veg is displayed in rustic-looking wooden boxes and chillers near the entrance, sourced by a local supplier. Most of it comes from Spitalfields Market in East London, but some items such as kale come directly from local farms.
Two bakers come in every morning to bake fresh, organic loaves of spelt, wholemeal, seeded and white bread. "It's proving really popular," says Saskia Parks.
The Eat 17 bar serves beers, wines, cocktails, toasties and Eat 17's own coffee blend from Perky Blenders.
A large seating area caters for the bar and the food service concessions (see overleaf).
A wood-fired pizza oven is set to be introduced in the bar area.
Chilled and own brand
The meals, deli and butchery categories are all housed within chillers with doors.
Chilled Eat 17-branded products such as ready meals and sandwiches are all made in the Hackney store and delivered four times a week. Own brand meat is also prepared in the Hackney store.
The store sells vegan ice cream and other products "you don't get in the supermarkets".
Eat 17 products also include marmalade, olive oil, spices, cereals, wine and Bacon Jam.
Concessions
While the Hackney store is renowned for its burger bar and the Walthamstow store for its pizzas, Bishop's Stortford includes three 'street food' concessions next to the Eat 17 bar: Col's Kitchen Italian, Chihuahua's Mexican, and Katsu Charlie's Japanese menu. Customers can eat their meals in the extensive seating area, which includes booths as well as the open-plan tables, or they can take their food away.
The Fresh Fish Shop operates a concession at the back of the store, selling fish caught off the south coast or bought from Billingsgate fish market.
The store also hosts a florist, Hanaya Floral, within the store.
Co-owner James Brundle also plans to introduce a barber's service in the basement.
Off licence
The Borough Wines self-serve wine fixture is "going really well", says Saskia. "We really like to offer an experience while people shop." Customers buy a bottle for £2.90 and fill it for £6.50.
Eat 17-branded Franc Grenache/Syrah wines sit alongside the fixture.
A selection of value wines are on sale to cater for bargain hunters, too.
An extensive range of craft beer including canned craft ales and ciders are found in the chiller. "All the enthusiasts come in," says Saskia.
Spirits are stocked behind the till, including locally-made Pinkster Gin. The raspberries that flavour the gin are turned into jars of Boozy Berries.