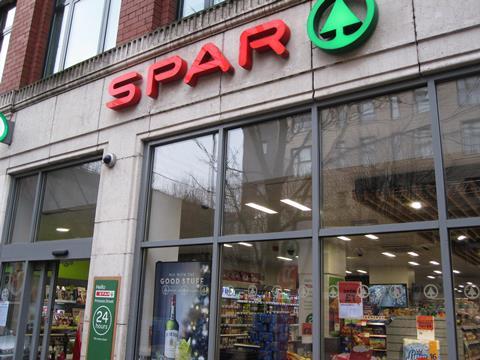 Paul Stone, who operates eight Spar stores in the Manchester area, was named as Retailer's Retailer of the Year at the 2017 Convenience Retail Awards. The award is sponsored by Pladis and Paul was chosen as the winner by the Pladis Ambassadors, a group of progressive convenience retailers who work with the company to feed back on initiatives and develop best practice. The 2018 Retailer's Retailer of the Year will be revealed at this year's CRA at The Royal Lancaster, London, on Thursday 15 March.
Every Occasion
Paul's philosophy is to trade every inch of the store, every hour of the day, and to maximise the impact of every local event and occasion.
This approach is vital as the centre of Manchester is one of the UK's most competitive areas for convenience trading, with small format versions of the multiple grocery chains in practically every major street.
All of his city centre stores are open 24 hours a day, with eye-catching displays of products to enhance every sales opportunity, which include Chinese New Year, Manchester Pride and city centre sporting events and music concerts, as well as the traditional seasons.

"We like to put products where they are in danger of getting sold," Paul laughs.

A ninth store is already under development, with a view to opening in March
Innovation
Paul is always looking to innovate, such as with his own coffee brand, Cheeky Coffee (below). Machines carrying the brand are in seven stores and a local firm of solicitors.
The Princess Street store features self-checkouts alongside counter staff. Some customers, notably students, prefer them, but Paul is still reviewing the overall benefits.
Paul also provides drinks for Deliveroo and Uber Eats services in Manchester. By working with both companies he ensures he maximises the sales opportunity.
The winning feeling
Paul received his award from Pladis trade communications controller Hena Chandarana and the previous year's winner Bay Bashir at last year's CRA awards evening.
Chandarana says: "What Paul brings to Manchester is outstanding convenience practice in all of his sites. He is willing to take a risk and trial new concepts where necessary.
"Paul realises the potential and individuality of each of his stores and tailors them accordingly using his 'one size does not fit all' approach - which as we can see gives him a leading edge."