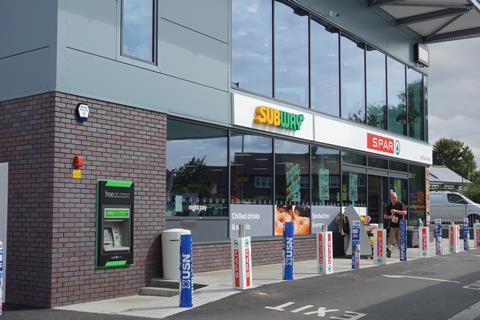 Nick Baker, owner of NJB Services, which operates five Spar forecourts in the North, has carried out a daring £1.3m knock-down and rebuild to turn his 600sq ft basic c-store into a 2,000sq ft futuristic glass-fronted two-storey store. Relaunched last April, the first floor of the build is dedicated to the large café offering panoramic views. Starting from a blank canvas, Nick was able to future-proof the 24-hour store with energy-efficient technologies and a huge range of innovative services including Subway and launderette.
Cafe and customer services
The 60-seat Cheeky-branded café serves Nick's own blend of coffee beans.
Within the seating area are plenty of free-to-use sockets, USB ports as well as wi-fi, offering customers some useful home comforts.
A lift to the café allows for disabled access as well as a way to transport stock downstairs from the upstairs store room.
Nick's was the first independent forecourt in the UK to introduce two cashless self-serve checkouts for non-fuel purchases. "These are proving invaluable to help keep the flow of shoppers at busy times," says Nick.
Outside the store is a large laundrette area, and a van wash with a raised platform so users can reach the top of their vehicle with ease.
Range
Food-to-go sales amount to £8,000 per week with £5,000 from Subway and £1,000 each from the café, coffee-to-go and food to go.
Chilled cream cakes are an unusual choice to locate next to the coffee-to-go machine, but are proving popular, especially with workmen.
A bay devoted to protein products goes down well with customers who have come straight from the nearby gym.
Sharing bottles of soft drinks are kept in chillers for immediate consumption.
The store receives daily deliveries from James Hall.
Energy efficiency and innovation
PIR-activated (motion sensor) LED lighting is in place throughout the store, helping to reduce electricity use.
All 24 metres of chillers have doors.
LED lighting is installed across the forecourt, including on the pumps, canopy, fascia, pole sign, as well as the time and temperature display.
Thermo-efficient solar glass on the store front ensures the store is kept cool in the summer and warm in the winter.
This was the first forecourt to adopt the rebranded Subway signage and the counter stays open for 24 hours on Fridays and Saturdays.
Innovations outside the store include multi-media screens on the petrol pumps.
Services
The store offers a plethora of services, both inside and outside the store. These include: PayPoint; e-top up; ATM; Apple Pay; a post office; parcel collection; lottery; Amazon and InPost lockers; and launderette.
WINNER
Energy Efficiency Award
Nick Baker was able to work with a blank canvas when his store was rebuilt - and judges agreed there was little else that could have been done to reduce energy consumption.
Energy-saving features include motion sensor LED lighting; 24 metres of chillers with doors; LED lighting across all forecourt equipment and displays; and thermo-efficient solar glass to ensure the store cool in the summer and warm in winter.
Shaun Underwood, director of commercial sales, at Utilita adds: "This has all been achieved within a fantastic looking store and the end result is credit to the hard work and effort of Nick and his team."
Sponsored by Utilita