Classic Service Station in Omagh, Northern Ireland, was doubly honoured at the Convenience Retail Awards 2018 with awards for Food to Go Retailer of the Year (large store) and Best Communication to Shoppers. Owned and operated by Jonathan McCullagh (pictured) and family, the Spar-affiliated forecourt also won Best New Store at last year's awards. The impressive and distinctive food-to-go operation is a real point of difference for the 4,000sq ft store, which trades in a competitive area directly opposite a large Asda supermarket.
Food to Go
The food-to-go function has hot and cold food for any occasion, with many items prepared to order if needed.
The 18-strong kitchen team is given the freedom to experiment with new dishes and recipes, helping to keep the menu fresh.
Pride of place goes to the burger bar, created under the Chippy brand and open until midnight. In the run-up to Christmas, the store team created gin and prosecco burgers to add some festive interest.
Increasing the perceived value of the food offer has boosted sales. For example, sales of Sunday lunches have grown since the price was increased from £4.99 to £5.95. A switch from plastic to metal cutlery has also had a positive effect on sales.
The in-store seating area can accommodate 40 diners.
The Extra Mile
In addition to the food-to-go service, the in-store kitchen prepares ready meals and meal accompaniments to take home.
A huge choice of dishes is available, sold from the main bank of chillers but also from front-of-store spider units for customers in a hurry.
As much as 30% of chilled food sales come from items prepared on site under the McCullagh's brand name.
The store recently carried out a pilot project with the local council's environmental health unit to apply more detailed labelling to the items prepared in store. This investment and commitment was rewarded with a 5-star rating highlighted on-pack.
A Destination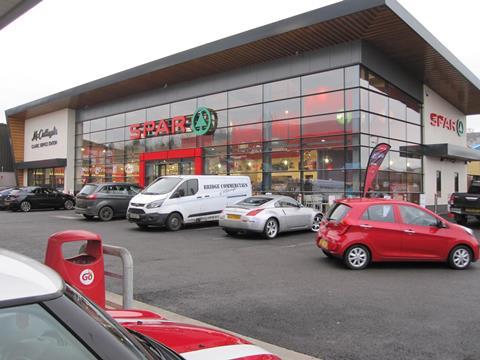 The site occupies a commanding position at the edge of town, on a site where the McCullagh family hasrun a business for generations.
Customer service is a key part of the business ethos, and members of the family or store team are always on hand to fill fuel or walk people back to their cars with an umbrella on rainy days.
Groceries are keenly priced, using Spar's supermarket price file, but impulse and convenience lines are growing fastest.
Shop sales overall average £65,000, an increase of 7% year on year.
Communication
The store created its own scratchcards to give away with every £15 spent in-store. Funded by suppliers, every card was a winner.
Classic offers Seattle's Best coffee as a further point of difference, and free drinks vouchers are door-dropped or personally handed to customers to drive footfall.
The Go fuel offer is advertised locally as being permanently cheaper than the Asda supermarket over the road. Instant price changes are occasionally required in order to stick to this commitment.