Store owners from across the UK are finding it difficult to stock up on Cadbury's latest limited edition chocolate bar, Twirl Orange, following high demand from customers and intense social media interest.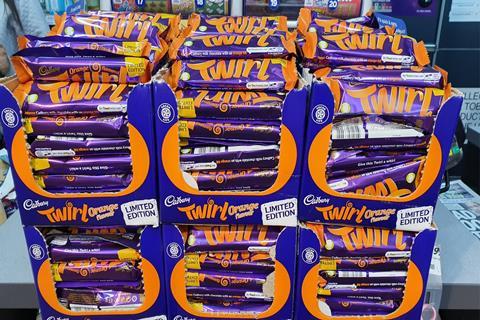 Best-one retailer Gareth Jones, owner of two stores in Bargoed, south Wales, said his customers had been left disappointed by the lack of stock after finding out about the product on his Facebook page.
"We haven't been able to get hold of any stock. We publicised the launch on social media as the bar was included on our monthly offers post," he explained.
"It got a great response because our customers love any new chocolate launch so it is a real shame that we haven't been able to get them."
David Heritage, of Barns Green Village Stores & Post Office in Horsham, West Sussex, managed to track down some stock last week but it went pretty quickly.
"I bought four Orange Twirls from Booker's cash and carry in Brighton last Saturday (October 19)," he said.
"They all sold in two days - Londis is not able to supply them it seems. Loads of people are wanting them and it's frustrating that we can't get them."
Harj Gill, owner of The Windmill Select & Save in Birmingham, has been left feeling vexed after noticing that others stores have been able to stock the highly-anticipated chocolate bar.
"I think Mondelez have made some deal with Booker which means that other retailers are struggling to get any stock," he suggested. "I haven't had any Orange Twirls in my store which is really frustrating because customers are asking for them.
"We promoted the launch on our social media accounts like lots of other retailers so I can't help thinking that it has been all about publicity rather than distributing the product to stores."
He added: "It would be nice if the Orange Twirl was made into a permanent sku but the trouble with that is people are sometimes only interested in a product when it is a limited edition. When they can get it everywhere they lose interest so it will be interesting to see where Mondelez takes it next."
Gareth agreed: "The limited edition element is a real selling point for customers so I understand why they launch products in this way but it is unfortunate that we aren't one of the stores that are able to sell the bar.
"I think Mondelez are pushing it into Booker stores – I've seen plenty of Premier retailers that have the Twirl Orange in stock which is a little frustrating."
Susan Connolly, of Connolly Spar in Wiltshire, added: "A clever stunt by Mondelez to create a huge demand or just poor execution? We had some bars delivered after a few weeks' delay even though we pre-ordered. They went within a day with little chance of getting anymore."
Hot demand, limited supply
Harris Aslam, md and owner of Eros Retail (Nisa) in Scotland, thinks that wholesalers have been caught out by the popularity of the Twirl Orange bar.
He said: "I understand there is only limited stock in the UK at present. Most wholesalers don't have stock at the moment.
"We have had some stock, albeit being drip-fed. As with a lot of recent limited edition NPD, the phenomenal demand has been furthered by the limited supply."
Premier retailer Mandeep Singh in Sheffield agreed. His store's Facebook group gained more than 800 members as a result of the Twirl Orange launch so he went the extra mile to track down stock for his store.
He said: "We knew that the product was going to be big but I think it surpassed everyone's expectations. We sent out vans early in the morning to all the major wholesalers to make sure we had stock.
"Hancocks has been our main source of supply - we probably got around 100 cases through them. Booker and Premier sent us six to seven cases but some of our guys went out to Batleys and up to Unitas in Scotland because we still needed more product.
"If you want the engagement on social media and enough Twirl Orange to meet demand, then you have to be active about getting it," Mandeep added.
"We also made sure that we weren't ripping people off so instead of charging an inflated price, like people on Ebay and Amazon, we stuck with a price of £31.20 for a case of 48 which works out at 65p per bar."
Dave Hiscutt, manager of Londis Westham Road in Weymouth, Dorset, has been on the lookout for Twirl Orange stock from Londis since the product was first mentioned in September.
He argued that c-stores can really benefit from these type of limited-run launches: "The singles confectionery market is pretty flat but the limited editions always do well and we need these kind of innovations in the convenience channel."
Dee Sedani, who owns a village One Stop store in Etwall, Derbyshire, said demand for Twirl Orange is so high that his supplier has had to carefully manage supply.
"We've had stock from One Stop but not the required volume that I would have liked," he said. "They are limiting retailers' orders to two cases per store."
Stock has been so limited for Calum Duncan, owner of Crown Stores (Premier) in Inverness, Scotland, that he has started to think that the Twirl Orange is being phased out.
"We haven't been able to source any stock, despite ordering from Booker," he said. "It now seems to have been delisted - at least we can't find it on Booker when we search at all. We checked with Unitas wholesaler Sutherland Brothers also, but they haven't been able to source any from Cadbury."
Supplier response
Responding to questions about supply, a spokesperson from Mondelez International said: "The interest in the limited-edition launch of Cadbury Twirl Orange from the public and trade alike has been incredible. We have heard many stories, from both wholesalers and retailers, indicating they have sold their stock through very quickly indeed. We're proud to bring such a high-demand launch to the UK and will continue to deliver innovation across our portfolio of brands to the market."
Mondelez did not comment on speculation that the company had struck any kind of supply deal with Booker.
A spokesperson from Nisa commented: "Cadbury Twirl Orange is a limited edition line which has been extremely popular, and as such wholesalers have a set allocation from the supplier each week."
A spokesperson from Bestway said: "As has been widely reported across the market, we too have experienced unprecedented demand for this exciting new product which sold out quicker than expected.
"We'd like to reassure our valued retailers that we have additional stock due this week, which will be available to all our customers both online and in our Bestway and Batleys depots."
A spokesperson from Booker added: "We do not comment on our suppliers. However in a general sense, we work hard in partnership with all of our suppliers to offer the best choice, price and service for our customers."