James Stead, manager of White's Spar in Calver, Derbyshire, has taken his deli offer to the next level using a new app to boost sales of his sandwich range.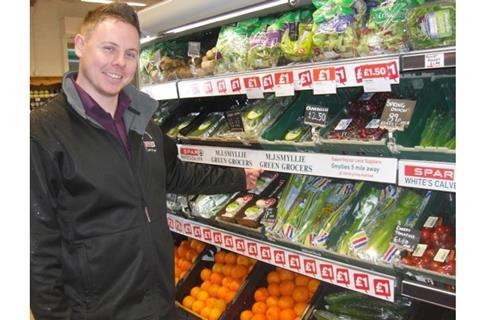 He says: "After the opening of a new Co-op close to our store, we knew that we needed to concentrate on improving categories that are doing well for us, and also deliver something that they (The Co-op Group) can't do in order to compete.
"We have been really pushing our deli offering, which is now linked up with Henderson Technology's APPetite app. The system allows customers to create their own sandwich online or on their phone and collect their order in-store where it is made fresh from scratch.
"The app features a whole sandwich builder page where customers can choose what kinds of fillings they want and the type of bread that works best with their choices.
"It works especially well for people that don't have much time for lunch becuase they can put their order in early in the morning and collect their sandwich at a time of their choosing.
"The whole system links in with our Edge epos system and gives us a point of difference over the competition. It is becoming harder to push up margins in grocery so it is important for us to focus on growth areas like chilled and food-to-go."
Star performers: "Fresh is definably our best performing category."
Successful NPD
"The only new launch that anyone seems to care about at the moment is the Twirl Orange bar from Cadbury. We sell out within a few days of recieving any new stock."
Mondelēz released its limited edition Twirl Orange single bar into the convenience channel in September.
The product comes in a 43g format (rrp 65p) and is sold to retailers in cases of 48. The launch is aimed at consumers who are seeking new flavours and experiences from their chocolate.
The limited edition orange flavoured bar was welcomed by retailers and shoppers after pictures of the product were shared on social media throughout the autumn. The intense demand has lead to stock shortages in different parts of the UK.
POS material is available for c-stores to maximise sales of the bar and retailers can find out more by visiting www.deliciousdisplay.co.uk.