Sheffield-based c-store retailer Singh's Premier is reaping the rewards of Sheffield United's Premier League success this season, thanks to its new stall at the club's Bramall Lane stadium.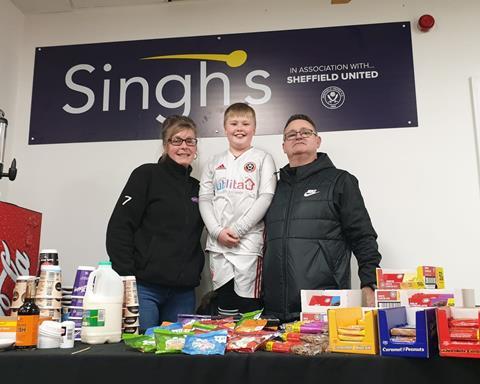 Co-owner Mandeep Singh has enjoyed a fruitful relationship with the Sheffield club since 2012, when he first hosted a charity football match at Bramall Lane.
Mandeep said the relationship was borne as a direct result of the Singh's Premier social media presence, which has seen its Facebook page attract more than 16,000 followers.
"We've had our stall since the beginning of the season, and it's going really well. We're based in the family stand and sell snacks. You don't see Tesco in there! Compass has the main contract but we're not seen as a competitor," he told C-Store.
"It's obviously great for our brand recognition too. Sheffield United have been really good to us – and they only noticed us in the first place because of social media."
Mandeep, who owns four Singh's Premier stores in the city, also credits social media with an exclusive supply deal with AU Black Grape vodka, which was launched by DJ Charlie Sloth.
"We're the only store he supplies to in Sheffield, and the product is flying out. They retail at £35 per bottle and we're making £7.40 profit, and we're selling about 17 or 18 cases a week," Mandeep said.
"Again, they only contacted us because they saw us only social media."
During the recent flooding in Sheffield, Singh's Premier was able to use social media to spread the word about its home delivery service.
"We've got more people shopping with us now as they appreciated what we did for them during the flooding," Mandeep said. "The likes of Morrisons were cancelling their online orders, yet we managed to get to people's homes in our Smart car!"
In order to gain traction on social media, he advises retailers to post at least twice a day and keep the posts "real".
"You need to keep it positive, don't get involved in politics, and make sure there's always something in it for customers, such as promotions or competitions. When you post promotions, add some personality to it – don't just post something dry," he said. "Also make sure you post around community stuff and events."