A major refit and refreshed customer service training have led to a vastly improved shopper experience at Richard and Karen Dance's store, which won the Best Multiple Store award at CRA 2016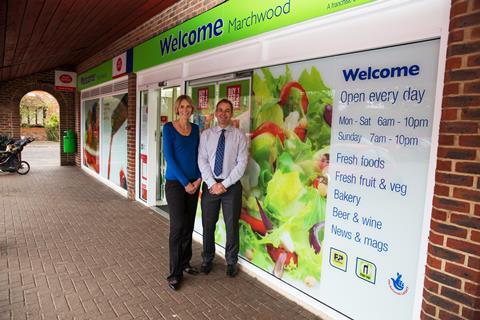 The exterior of Welcome Marchwood in Southampton doesn't look too different to any other Co-op store, with smart vinyls boasting tantalising foodie visuals and the familiar green fascia. But step inside and you'll quickly realise the differences.

The store has been through a complete transformation over the past 18 months, with changes to fixtures, fittings and its approach to customer service. "In 2013 our store had reached a ceiling in its existing trading format," explains owner Richard Dance. So they turned to their customers to find ways to improve. "Customers like to feel they're having a say in the running of the store," says area manager Nick Price.

Richard also made an in-depth study of sales. "We analysed our epos data, looking at spend per category, to identify which areas were either over-performing or under-performing, and identified that we needed to expand food to go and snacking, ambient grocery, fruit & veg, meat and poultry and chilled ready meals." He also noted that the news, cards, stationery and toy categories were not drawing in enough sales to justify their shelf space. These findings, along with the customer feedback, formed the basis for a store refit in 2014.
Store profile
Co-op Welcome, Marchwood
Store size: 2,400sq ft
Basket spend: £5.90
Turnover: £52,000
Opening times: Monday to Saturday 6am-10pm; Sunday 7am-10pm
The refit saw the queuing system re-designed to make it more customer-friendly, and more impulse lines were moved to this area to tempt queuing customers. A vast range of thaw & serve products, including flapjacks, rocky road and iced buns, were positioned at the queuing point, with sales rising from £100 to £500 a week.

Food to go and snacking items were moved to the back of the store, with impulse confectionery, crisps, sandwiches and drinks all sited close to one another to bump up incremental sales and encourage meal deals. This saw sales jump from £1,350 to more than £2,000 a week. "Before, sandwiches were in a standalone fridge with soft drinks," says store manager Simon Lee. "Now we have two 1.25 metres of sandwich chillers, with pre-packaged deli lines and double the impulse soft drinks." He claims they sell more than 500 meal deals a week versus 260 last year.
In order to offer customers more choice, Richard made the decision to add an extra shelf to his fixtures, which saw ambient grocery grow by 20% to £2,300 a week.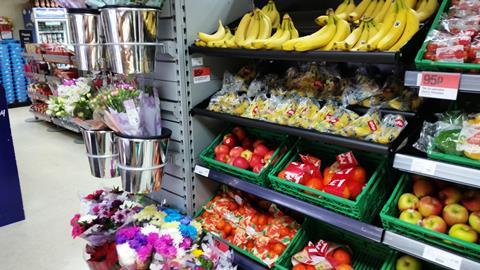 Fruit and veg was moved from the back of the store to the front to make the shop look more welcoming and reinforce customers' perception that the store's offering is fresh and high quality. As a result, sales rose 12%, up from £1,900 to £2,200 a week.
Richard opted to dedicate more space to chilled food, doubling his chiller space to 32 metres and placing chillers with doors all around the outside of the store. Meat and poultry sales are now up 23%, to more than £2,000 a week, while chilled ready meals are up 20%, to £2,800 a week.
Meanwhile, space allocated to the underperforming news and magazines was cut by half, to three metres. News, which was previously tucked along an aisle on the way to the post office area, was moved to the front of the store and as a consequence sales have risen to £2,500 a week. Cards were also cut from three metres to one metre, but sales dropped marginally from £800 to £500 a week. Stationery was also reduced to create more space for the new post office area.
While redeveloping the traditional fortress for the post office, the store also extended the service to the shop's counter area. Post office services are now available to customers 9am-5.30pm, six days a week, and if the fortress is closed customers can still use the till area to get cash out, post parcels, and pick up packages.
But changes at the store didn't stop with the products; the company has also overhauled its approach to customer service. "While we've been in convenience retailing for more than 30 years, it's only been in the past few years that we've had a bigger focus on customer service and staff training," says Richard. He claims this coincides with when his wife Karen began working full-time at the company. "Karen's background in corporate talent development and internal communications has been invaluable," he says.
Rather than simply follow existing customer service procedures, staff have been given ownership of the process. Karen worked with the team to develop the Customer Service Charter - a document which outlines the behaviour that staff agree is fundamental to providing outstanding customer care.
Over the past year, all staff have undergone a half-day customer service training session off site to ensure that everyone is aligned in their approach. The store has also introduced a scheme whereby staff can nominate a 'well done' card to recognise individuals who have gone over and above their job expectations. These staff then go into a draw three times a year for in-store vouchers of £100 and into a company-wide mega draw at Christmas.
In addition, all staff have two management 'secret' customer service observations, where colleagues are praised on what they are doing well and told areas they could improve on. "Rather than just ticking boxes, we feed back constructive criticism so that staff can improve," explains Nick.
As well as all the work the team does in-house, the Co-op offers opportunities to study e-learning modules, but until recently these had been largely neglected. "E-learning was part of the Southern Co-op, but it wasn't something we were using," says Nick. "Karen encouraged us to embrace the modules."
This was easier said than done because some staff members weren't confident in using computers. "Initially, technophobia meant that only about 20% of staff were completing the e-learning customer care modules," says Richard. However, the team soon came up with a way to tackle the issue. "We introduced a 'buddy' scheme for members to share ideas and support one another. This even extended to laptop and pizza evenings where staff got together to complete their e-learning together in a relaxed environment." As a result, the store now has 100% compliance from staff.
Employees' new-found customer service skills are put to the test with quarterly mystery shops. "Staff recognise that customers do have a choice and by implementing our customer service charter not only has service to the customer improved, but so has morale, team work and internal communications," says Richard. "These in turn support improved business performance."
Indeed, turnover now stands at a healthy £52,000 a week, which equates to an impressive £20 per sq ft, and business is up 5% year on year. Average basket spend has risen from £5.60 to £5.90 year on year.
"It's one thing to revamp your store, but to revamp your staff is a huge achievement and one that should be applauded," said a member of the Convenience Retail Awards judging panel. They felt that the store was thoroughly deserving of its Best Multiple Store title.
Community engagement: organised a summer fete with community Zumba class and a trolley raffle to raise money for local charity Keeley's Wishes; runs local produce sampling; raises money for vulnerable adults; sponsors a local Scout group and an after-school cookery club at the local infants school.