In less than two years, Mahesh Odedra has made his mark on a thriving local community. C-Store went to to find out more about his revamped Premier store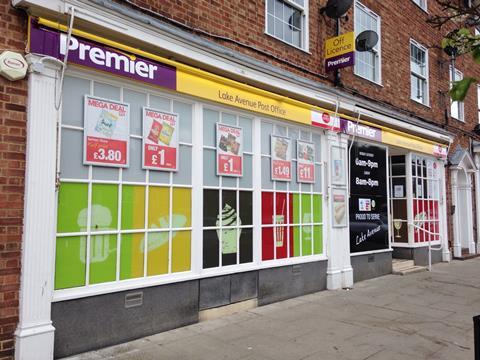 When Mahesh Odedra and his wife Arti became proud parents to their daughter Aanya two years ago, they were unanimous in their ambition to quit the day job and run their own business.

The former associate director at a freight company and his wife, a former catalogue design manager, wanted a career that meant they could spend more time together and be closer to home. After calling on the advice of Mahesh's brother AJ - who has run a successful convenience store in Boreham in Essex for more than 20 years - the couple began investigating c-store retailing.

"We didn't rush into anything, we took our time to find the best location and to seek advice from a network of very knowledgeable retailers, symbols and suppliers. Having AJ there for me, who has been there and done it before, was a huge advantage," Mahesh tells C-Store.

Their search took them from Essex to Suffolk, more specifically to the town of Bury St Edmund's and the 1,350sq ft Premier Lake Avenue. The store is on a housing estate with 1,200 homes, and the shops on Lake Avenue's South Parade play a significant part in the lives of its local community.

Despite its enviable location, the shop has to compete with a fair few stores in the local area. There's a Spar store half a mile away and a Co-op mini supermarket a mile away, while a Tesco supermarket is located three miles away to add to the pressure. But residents remain loyal to Premier Lake Avenue.

"We wanted to first of all run a successful business, in a fulfilling business sector, but more importantly we wanted to do it right and provide the community with a better equipped, modern convenience store that could make locals' lives easier and provide everything the community needs on its doorstep. I think we have achieved this and that's why customers come back to us time and again," explains Mahesh.
Store facts
Premier Lake Avenue
Size: 1,350sq ft
Trading for: Two years under current management
Opening hours: 6am-9pm Monday-Saturday; 8am-8pm Sunday
Staffing: 12 members of staff, four full time
Best-selling categories: Grocery (35%); tobacco (20%); alcohol (15%); chilled (20%); food to go (10%)
Mahesh took over the Premier store in November 2015 from predecessor Paul Luke, who retired after 24 years of serving the local community; he still pops into the store on occasion. After almost a year behind the counter, Mahesh and Arti took the decision to give the store a fresh new look, increasing its 1,000sq ft to create a modern 1,350sq ft c-store.

Mahesh says: "The store was more or less a CTN and we wanted to give the community a modern mini market convenience store with a wider offering, and to do that we needed more space so we could give certain categories more space. This would allow us to expand our chilled and alcohol categories while also introducing a food-to-go station."

Taking out half of the store room and moving to smaller but more frequent deliveries meant Mahesh was able to add 400 skus, resulting in a 40% uplift in year-on-year sales. Grocery sales have gone up 35% and chilled 20%.

Mahesh also invested in LED lighting for all the chillers in the store, giving them a standout look while becoming more energy efficient. He also took the opportunity to dedicate two more metres to chilled, allowing him to stock more fresh fruit and vegetables to meet growing demand from customers for fresh produce.

Alcohol and food to go have also been among the success stories following the revamp. The store's alcohol category used to occupy a one-metre chiller space. Now it occupies six metres, leading to 30-40% growth in sales year on year.

Food to go wasn't stocked before the refit, so the work gave Mahesh the chance to move into this growing category by adding a food-to-go station at the front of the store, by the entrance and checkout point. The area includes an in-store bakery for sweet pastries, a Bake & Bite hot food unit and a Country Choice coffee machine. It now accounts for 10% of the store's total sales.

Mahesh says: "Our food-to-go area is a great addition and gives us a new dynamic that is very much on trend. We expect to further invest in food to go in the future and add more lunchtime options and meal deals. It is exciting to have the space now along with the option to expand on it in the future.

"All of our products in this area are prepared on site in the kitchen in the back and put out fresh throughout the day, little and often to minimise waste."

The store has a breakfast meal deal retailing at just £2, consisting of a coffee and any sweet pastry from the in-store bakery.

Just as the Odedras did when taking the leap into retail, they spent time finding the right company to carry out the refit. "We decided to use a company called Project Retail; we chose them because everyone else I considered either had experience of refits only, or building only, and Project Retail had both and could do both at the same time, and that was important to us," explains Mahesh.

The company was also able to provide the LED lighting and high-spec chillers that Mahesh was looking for.

The refit wasn't always easy going, though, as Mahesh and Arti were keen for the store to remain open throughout the work, to ensure custom wasn't lost to the competition, and given that the store's post office is a vital destination for the local community. The post office is a two-counter unit with a combi-counter and scales located at the checkout, and Mahesh describes it as the perfect footfall driver, playing a big role in the 500-600 people the store services in a single day.

Staying open also had another, unexpected, bonus. Mahesh explains: "When customers saw us carrying out the work, they would ask questions and ask if we would be adding anything new. It was great to use their input and find out who our customers were and what they wanted from the store."

This feedback led to the creation of a kid's zone. "The kid's zone is great; it isn't quite there yet, we need to add a new sign on the top and a few more bits, but it has been great. The older kids and the younger ones both love it and enjoy helping themselves to an ice slush drink and spending their pocket money. It works really well because we have plenty of families in the estate and a few schools nearby," says Mahesh.

Promotions

Of the new lines introduced in grocery, most are competitively priced or pricemarked, as Mahesh wanted to go big on value and offer affordable prices where he could.

"We stock pricemarked packs where we can because we want our customers to trust us and reassure them that they aren't paying over the odds for a product that they can get cheaper at another store or supermarket. We are on an estate and people don't have large disposable incomes and it is important that they can rely on their community shop to provide honest prices," explains Mahesh.

With a clear understanding of his customers and what they want, Mahesh has been able to develop a CTN store into something much more, and his goals don't end there. He says: "We had a clear idea of what we wanted to do with the store and I think we have been able to give it a new perspective. What we want to do moving forward is to continue to be there for the local community and inspire them by continuing to evolve in line with their shopping habits."
SYMBOL SUPPORT
Getting the party started
The store threw a special launch party to celebrate with the local community when the team completed its refit last September, and Booker was on hand to make sure the day was a memorable one.
Booker put on a free BBQ for locals, while the store gave away goodie bags and ran special one-off promotions throughout the day, including a free coffee or slush drink with a spend above £3.
"It was a great day and really helped to cement our place within the local community. Booker were great and everyone enjoyed the BBQ. The mayor also came out to cut the ribbon on the store," says Mahesh.
Mahesh adds that advice from Booker and the Premier symbol group have been pivotal in the success. "Booker and Premier have such a wealth of knowledge and it really helped when we took over the store and took on the refit."