Nick Baker has spent £1.3m transforming a 600sq ft Mace forecourt store in Selby into a modern 2,000sq ft Spar complete with Subway and second-storey café. Now it's the first place residents, local workers and motorists head for when in need of food and drink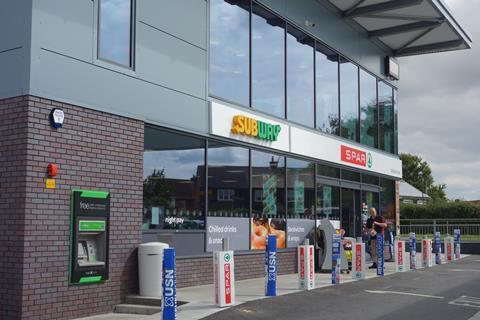 Nick Baker is clearly a man who likes to be first when it comes to adopting new ideas. Just take his recently refurbished Spar forecourt store in Selby, North Yorkshire, one of five in the North of England in his NJB Services group.

The dual-branded Jet Spar forecourt is the first forecourt store to have the rebranded Subway signage, Nick tells C-Store; the first to have self-service tills; the first to install an attention-grabbing sign outside featuring the current temperature, just like those on the Continent; and the first forecourt store to feature a lift, leading to the store's café.

Nick has spent £1.3m turning an "extremely busy" 600sq ft Mace he bought in 2004 into a state-of-the art Spar forecourt store with 2,000sq ft of retail space, plus café on a second floor - hence the lift. (He got it for a snip at £12,000, he says, instead of the usual £30,000 price tag, from a Swedish company who adapted a moving platform-style lift to his requirements. Now the lift can move people as well as stock.)

The decision to expand provided Nick with a "blank canvas" to create a store that meets the needs of those passing through for fuel and food, local workers after lunch or breakfast, and families in need of dinner-for-tonight inspiration, along with everyday groceries, alcohol and fresh foods. Chilled now dominates, with banks of modern fridges running up and down the aisles.
Store facts
Spar Jet Selby
Size: 2,000sq ft
Opening hours: 24 hours a day, seven days a week
Staff: 30 full and part-time
Services: National Lottery, PayPoint, launderette, Amazon locker
The store is off the main A19, on a retail park featuring a myriad of businesses, from gym and bowling alley to an Aldi, and opposite a residential area, so its product mix is purposefully all-encompassing.

The in-store Subway is in great demand, and shoppers can take their food upstairs to the Cheeky Café. For Nick, having both is about extending choice. "The kids will have the Subway, while the parents can choose something else. It's about offering lots of choice," he explains.

Nick is set to launch the café with a fanfare this month, with promotions and giveaways running for three weeks. In the few months it has been open he has been tweaking the menu to meet demand. "I want to ensure that what we do, we do well," he says. "You don't always know the answers until you've seen customers."

Now the menu will be printed on a natural-coloured A4 sheet instead of laminated, and dishes are being given a healthy twist, to include poached eggs, granola, loaded jackets and bagels. "We want to focus on healthy, not be a greasy spoon," he asserts.

The tone is set from the start, as a freestanding display of fresh fruit and veg shown off in crates greets shoppers as they enter and, in a departure for most forecourt stores, there's a large space devoted to protein lines, spanning bars, drinks and even 2kg kegs of protein powder. The protein range has been trialled at Nick's other stores, and has been a success in Selby thanks to its proximity to the gym. "Health is everything today," says Nick. "People like to focus on their bodies."

The fresh food also sells well, particularly pineapples, for a reason Nick can't fathom - "the amount of those we sell is unbelievable".

Sunday is the busiest day by far for the store, with sales spiking when the supermarkets shut and his shelves are "blitzed". The store opens 24 hours each day and so makes the most of the longer Sunday trade, but Nick acknowledges it makes refilling shelves on a Monday a challenge. Luckily, daily deliveries of fresh goods are provided by the store's wholesaler, James Hall.

Not surprising given its flow of motorists and lunchtime shoppers, a large proportion of the store is given over to soft drinks, with 10 metres of drinks kept chilled in fridges with doors and a further eight metres of promotional and take-home drinks, but shoppers can get everything they need for an evening meal, too.

A chilled gondola opposite the entrance houses promotional items, placed to get maximum attention. "It helps to give an immediate sensation of good value," says Nick. The store runs Spar's three-weekly promotional deals and Nick points out that they create an incentive for people to come in and just use the shop. The two-litres of milk for £2 is a particular draw, while the freezer section reinforces the dinner-for-tonight mission. "The co-branded Jet/Spar canopy also says to shoppers, look, we're different. We are a c-store," he adds. The self-service tills do their bit, too, as those buying only groceries don't have to queue with the fuel customers.

Since the store relaunched, turnover has doubled and "everything is up"; everything that is, except tobacco. "Since we took the gantry out and put in drawers under the counter for tobacco, sales have taken a nose- dive, down 30%," says Nick. The space behind the counter is currently used to house spirits and, while they are selling well, the drop in tobacco sales is a worry for Nick as his other stores haven't seen the same level of decline. Therefore the gantry doors are going back on and he'll see how sales go.

Making sure every square foot of his site earns his keep is a priority for Nick, who previously spent 12 years as shop development manager for Jet. Even its awkward shape hasn't been a hindrance. At the back of the store is a narrow area tapering to a metre or so, but it's big enough to fit a jet wash complete with platform designed by Nick to allow van owners to reach the top of their vehicle, an Amazon locker and a launderette. The launderette is provided and run by Photo-me and has three machines, one of which is big enough to fit an entire football team's kit. "I'm told it's the busiest on the patch," says Nick.

While the commission he receives from the services "isn't earth-shattering", it all adds up to extra footfall and "gives another reason to call in". Those football fans can pop in their wash and head to the café to relax while their shirts clean, and Nick is sure to publicise the café's presence with ads on the machines. "Convenience is changing; we've got to be more than one thing," he says.

Taking a modern approach also extends to Nick's attitude to marketing, with social media being where it's at, he believes. The point was brought home when recruiting for the new store. "We put an ad in the local paper advertising a recruitment day we were holding in the bowling alley over the road. We also promoted it on Facebook. About 140 people turned up, but only two came because they'd seen the ad in the paper."

With the store and café up and running, Nick's thoughts are now turning to spreading the word, and social media is set to play a big role in achieving that. In fact, he's just taken on a media manager to handle the job. No doubt, Jet Spar Selby will be the first port of call for a whole lot more shoppers in the months to come.
Coffee culture
The Cheeky brand
The Cheeky branding features throughout the site, promoting not only the café upstairs but the in-store hot drinks machine placed right by the entrance.
The Cheeky blend of coffee sold in both was developed exclusively for Nick by the York Coffee Emporium, a local artisan coffee roaster, and the blend was chosen by Nick himself.
Even though the drinks machine has replaced a Costa Coffee machine, there has been no decrease in sales and the machine is now installed in all of Nick's stores.
The logo itself featuring a cheetah is also home-grown. "Holly, who works in our Northallerton store, drew it for us," explains Nick. The logo appears on on the drinks machine, multi-media screens on pumps and on windows vinyls.