Mother and daughter duo Suenita and Manjula Keshwara have broken new ground by being among the few to pilot Costcutter's Shopper First programme.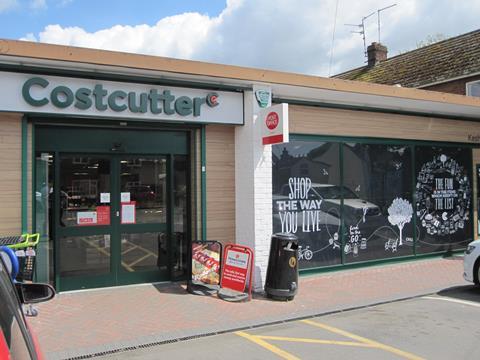 Suenita Keshwara and her mother Manjula are retail pioneers in more ways than one. In an industry lacking in "female role models", the pair is leading the way as a successful mother-daughter partnership at their Costcutter store in Kirton, near Boston in Lincolnshire. And in a vote of confidence from Costcutter, the 1,900sq ft store was selected last year to pilot the group's innovative Shopper First programme. Costcutter's faith in the duo is paying off: business is booming and weekly sales are up 27% year on year to about £25,000.

The family has been running the shop for 31 years and, despite a brief association with Londis in the 1990s, has always operated under the Costcutter fascia. "I've grown up in the shop so it's in my blood. My mum and dad ran the shop and me and my two sisters grew up in and around the store," Suenita recalls. Since her father passed away Suenita has taken a leading role in the business and made her presence known in the wider retail community.

"Over the past few years Costcutter have realised I've wanted to learn and they've been a great push," she says. "People knew me through the family, everyone knew who my dad was so that's where the relationship was first built. I've been going to events and workshops and I feel I'm being listened to, which is nice. I felt there weren't enough women at these events so I was making an effort to go to them. There aren't many females in retail so there aren't many role models."

However, the fruitful partnership she enjoys with her mother suggests that their role models are each other. "I guess we have a different way of thinking," Suenita adds. "Mum's more experienced, she could run the shop with her eyes closed, whereas I do the experimenting. She lets me try things out, whether it's changing things around in the shop or trying new lines. We work as a really good team."

From Manjula's perspective, she says her daughter has "brought the business forward with her ideas".

Suenita has a younger sister who manages the Facebook page "which works really well - everyone's on their phones all the time".
Store facts
Costcutter Kirton
Size: 1,900sq ft
Staff: 16 part time
Opening hours: 7-9pm, seven days a week
Services: Post Office, food to go, home deliveries
So with confidence running high, and conscious that the store was looking dated since its last refit in 2004, the couple started planning a revamp last year. "I was ready for something new and fresh and to put my own stamp on the family business. We started planning everything," Suenita explains. "We then spoke to Costcutter and they asked if we wanted to be one of the first Shopper First stores. I wanted to future proof the store, so for me it was the right way forward."

The Shopper First Programme has been designed to provide retailers with detailed insight into their local demographic. Thousands of shoppers participated in surveys and focus groups, with the research investigating not only where people shop, but also providing insights into shoppers' lives and how the way they shop fits into the way they live their lives.

The data was used to develop five shopper personas that cover 90% of shoppers within Costcutter's entire store estate catchment: Busy Impulsers; Younger Tonighters; Striving Shoppers; Dynamic Later Lifers; and Habitual Browsers. Each retailer has been given a personalised shopper dashboard for their store to allow them to tailor the offer.

Costcutter Kirton was one of a handful of stores selected to pilot the programme, which the group is aiming to roll out to 25 high-performing stores by the end of the year. In Kirton's case, prior to the Shopper First refit the store focused too heavily on the lower-end demographic, according to Costcutter chief executive Darcy Willson-Rymer. "It had the most mixed demographic in the Shopper First results," he said at a recent IGD conference.

The refit cost £150,000, of which Costcutter contributed about £20,000 through its development fund, as well as providing branding and signage. The redesign was a collaborative process, Suenita says. "We came to a brand thinking day. We got to see what kind of materials and colours would be used, but again we were listened to. When it came to the refit everything was taken into consideration.

"We had a number of different plans, we had visuals made; we stopped and changed things a couple of times. We're very happy with the outcome."

The store is now tailored to its demographic, focusing more on fresh and chilled, beers, wines & spirits, European foods and food to go, including a Tchibo coffee unit. The existing Post Office fortress has been enhanced with a front-of-store combi counter, enabling people to use the service later in the day.

"By looking at the data we can work out what kind of shopper we're going to have in our store. There's a lot of younger shoppers who come in on a daily basis instead of going into town, and we're picking up more on that market now. We've looked at the healthy side of things, which is why fruit and veg sales have gone up. We've got a lot more gluten-free and Weight Watchers items," she says. "We can see who shoppers are from this data and that's what we're aiming towards."

Despite being "a bit nervous" about introducing hot food to go - which is supplied by Country Choice - the category has been a big success. "We have a lot more footfall in the morning because of it. It's the time when food-to-go sales are high - we even get kids coming in to grab a hot dog or a croissant. Before we didn't have that trade. We've gone from nothing to £400 a week."

The refit has also driven BWS sales, partly due to perception. "To be honest, BWS are selling well because of the way the store looks in that part. Obviously, we have our good offers and we put them on Facebook and when the weather's good they're going to sell, but people feel in that area that they're in a quality store and don't mind picking up a bottle of wine for a couple quid more than they'd have paid before," Suenita explains. "Before the refit it was a bit slower and people were only interested in offers. That's why I think the way the store looks is so important."

In addition to the branded and own label lines, they stock local meat sourced from two butchers, local cakes from a Lincoln supplier, locally-supplied pet food and local fruit and veg. The Independent own-brand fruit and veg is also a top seller, along with the cold meats in particular. " Own brand is definitely becoming more popular, people are going for Independent because they know they're going to get the same quality," says Suenita.

Despite not expanding the store during the refit, the effect suggests otherwise, she adds. "A lot of customers have said it feels like we did expand. They feel like they're in a modern store getting quality goods. That's what customers want, whether it's in a city or small village. If you have that experience as a whole you're going to remember it and come back for more."

The biggest challenge is maintaining the high standards they've set for themselves. "It's all very well having a nice refit, but if the standard's not kept up it's wasted. You need to make sure the staff have the same head as you, so it's important to spend time with them in the shop rather than just leaving them to it," Suenita continues.

Their focus on their customers' community at large is equally sharp. They offer home grocery deliveries when their customers can't make it to the store, and they regularly fundraise for local causes through Costcutter's Local Pride initiative. The local kids' club, youth club and school have all benefited from their fundraising, while in-store events help raise money for charities such as Children in Need.

"What we have here is a family-run store and we take a lot of pride in that. We know everyone by name so we can use that to our advantage, that's what we're strong at. Other stores just want to get their customers in and out," she says. In other words, Costcutter Kirton puts its shoppers first.