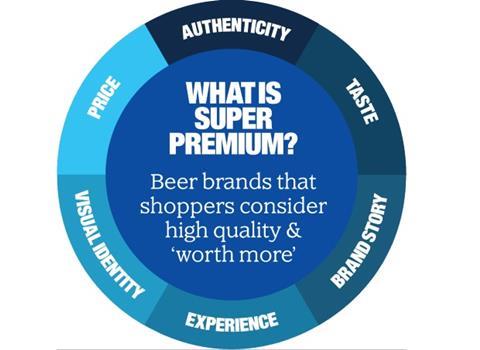 The trend of premiumisation
Premiumisation is an ongoing trend throughout grocery, and beer is no exception. In Convenience, the total lager category has grown +6% due to premiumisation. Super-premium is in double digit growth at +34%, premium has grown +8%, while standard lager value sales have fallen -2% yoy¹.
Super-premium commands £1.19 per litre more than standard and premium, which represents a trade up of 45%, a clear incentive for store owners to encourage shoppers towards super-premium. Super-premium shoppers spend +19% more in store per year², bringing in extra value to your store. (¹Nielsen ScanTrack MAT 11/08/2018, ²Kantar WP MAT 17/06/2018)
What is Super-Premium?
Super-premium is brands that consumers and shoppers identify as being higher quality and worth more. For this we have identified six elements that define a super-premium brand: Authenticity, taste, brand story, experience, visual identity and price.
Prestige brands such as Italy's Peroni Nastro Azzuro and Spain's Estrella Galacia champion their authentic provenance; Asahi Super Dry hero's its distinct Karakuchi taste; and Duvel and Leffe bring their brewing heritage to life through their unique brand stories. Craft brands such as Brewdog and Meantime naturally fall within super-premium due to their strong visual identities.
How can you drive shoppers towards Super-Premium?
To maximise sales in your beer aisle it's important to use the space effectively. When it comes to choosing beer, research tells us that shoppers firstly consider type and familiarity followed by style and taste³. Creating easy to navigate sections and ranging based on these drivers are key to encourage trade up. (³Shopper Centric 2017)
Group segments by 'good / better / best', with 'best' (ie super-premium) placed in a prominent position. Within these segments consider ranging flavour styles from left to right; easy-to-drink lagers on the left to fuller flavoured pale ales, IPAs and stouts to the right. Look to group products on shelf by brand. Position large packs on bottom shelf for easy access, while having single cans and bottles towards the top of the fixture.
At Asahi UK our aim is to bring value into the beer category. To do this we believe in working with our customers to build a stronger category, to drive growth, and provide shoppers with the best range possible.
To find out more, email us at category@asahibeer.co.uk