Treasury Wine Estate's premium wine brand, Wolf Blass, has launched a new campaign in partnership with luxury travel deals company, Secret Escapes.
The Why Settle When You Can Soar? campaign is supported across ATL, in store, PR, influencers and social media, and consumers have the opportunity to win redeemable travel credit and prizes worth £1m.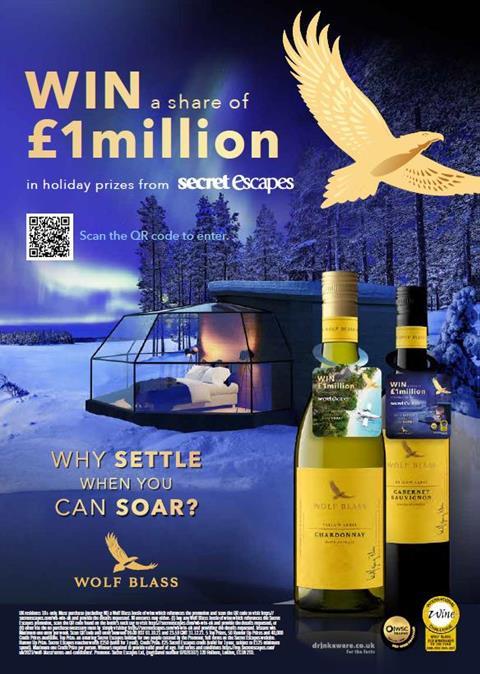 The partnership runs until 31 December 2021 and sees just under 900,000 bottles across the UK and Northern Ireland tagged with prize-winning QR codes. Entrants will have to scan the QR code on the tagged wine bottles to be in with the chance of winning £1,000,000s worth of instant prizes and credits. Prizes include a selection of once-in-a-lifetime holidays, in partnership with Secret Escapes:
• Luxury boutique hotel stay in L'Anse Aux Epines, Grenada, Caribbean
• Barbados stay at a dreamy beachfront hotel
• Luxurious Kenya beach stay with safari
• Sri Lanka and Maldives in style
• Winter Lapland wildlife break with optional igloo
There are also five £250 vouchers available to win and redeem on the Secret Escapes site, and 40,000 winners will be given £25 vouchers to use on an escape of their choice (minimum £125 spend to redeem).
Marketing director Treasury Wine Estates EMEA Ben Blake said: "As the UK has been under lockdown and subject to numerous travel restrictions, we wanted to give Wolf Blass customers the chance to soar once again and to take part in new experiences.
"We've invested heavily in marketing support for Wolf Blass and plan to continue taking the brand from strength to strength, engaging in memorable activations that put experiences and exploration at the forefront of our consumer engagement strategy."