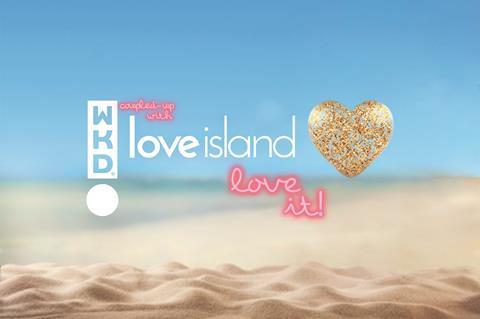 WKD will be the official alcohol partner of ITV2's Love Island which will be back on air this summer.
As part of the partnership, WKD will be back on TV with a series of ads showcasing the programme association. The campaign will air across the upcoming series using the strapline 'WKD coupled up with Love Island; Love it!'. The ads will also be viewed extensively through non-TV devices, plus via the Love Island app and across WKD social channels.
WKD will also be showcasing the Love Island association with two pack initiatives. These are two Love Island co-branded designs will appear on limited edition 700ml bottles of WKD Pink and a co-branded on-pack offer that will feature prominently on key WKD multipacks, offering thousands of opportunities to win exclusive Love Island and WKD merchandise, including the show's personalised water bottles.
"It's great to have engaged a fun, energetic and high-profile brand like WKD as Love Island's Official Alcohol Partner," says ITV deputy managing director of commercial Simon Daglish. "The Love Island media presence stretches far beyond the nightly TV episodes as the social media and on-pack opportunities that the show offers WKD are extensive. This is a great example of how we can work with brands more widely than spot advertising and we look forward to working with SHS Drinks as TV's hottest show returns this summer."
Alison Gray, head of brand – WKD, at SHS Drinks, added: "WKD is thrilled to have successfully coupled up with such a sassy partner as Love Island. In a fragmented media landscape, the show's meteoric success highlights how our target market still craves a shared experience. Forging relationships is at the heart of Love Island and this partnership will enable WKD to deliver a comprehensive campaign with huge reach which will be on TV, on pack, on social media and, most importantly of all, on people's lips and generating a real talk-about factor. In the 'always on' world of young adults, linking with the show gives WKD the opportunity to drive relevant messaging to our target audience 24/7.
"Love Island will beam some much-needed sun, fun and romance into living rooms this summer. WKD and Love Island are set to be this summer's winning couple: linking with the show is the perfect way for WKD to build on the huge sales momentum achieved in 2020 and continue to deliver robust growth for stockists."