Trebor is once again giving retailers the chance to win a jackpot of up to £5,000-worth of Amazon vouchers with the return of its 'Get Minted' convenience-exclusive campaign.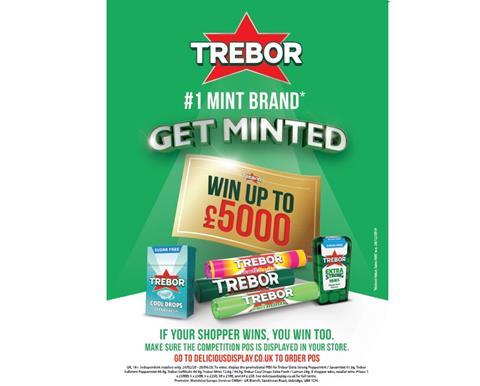 The acitvity is designed to excite both convenience store retailers and their customers, through offering a range of prizes for consumers and store owners. When a shopper wins, so too does the retailer.
The promotion is running across the full Trebor singles range offering prizes of £50-, £100-, £250-, £500- and £5,000-worth of Amazon vouchers.
To be eligible to win retailers need to display the bespoke POS being supplied by Trebor. The POS is available through Mondelez reps, or through the Mondelez trade advice website, www.deliciousdisplay.co.uk.
The full range of participating packs is: Trebor Extra Strong Peppermint/Spearmint 41.3g; Trebor Softmint Peppermint/Spearmint 44.9g; Trebor Softfruits 44.9g; Trebor Extra Strong Minis 12.6g/44.5g; and Trebor Cool Drops Extra Fresh/Lemon 28g.
Rafael Espesani, senior brand manager for Trebor at Mondelēz International, said: "We've seen year-on-year success with Trebor Get Minted. This year retailers have the opportunity to win a massive £5,000-worth of Amazon vouchers so make sure you stock up and get involved today to be in with a chance."
One of last year's successful retailers, Jignesh Patel of JS News Reading, said: "The Trebor promotion has helped increase our sales with POS displayed in our store and we were able to win £100!"
To drive brand awareness even further, the successful 'Give Me Strength' digital campaign will also be returning this year. The campaign takes a lighthearted tongue-in-cheek look at everyday nonsense moments.
Retailers can also find further advice on how to boost their mint sales at www.deliciousdisplay.co.uk.