Scottish Premier retailer Robert Kirkwood is keeping busy with demand for ready meals and meal-for-tonight solutions.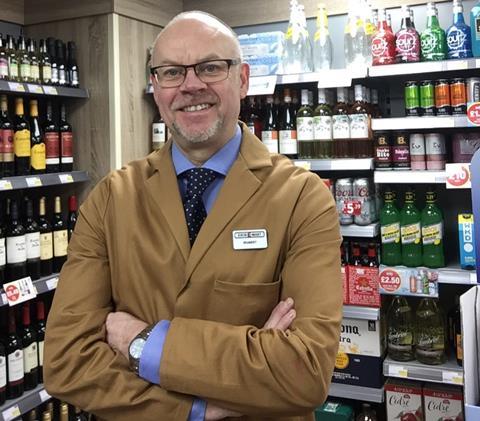 He said: "Our Discover the Choice ready meal range from Booker is going really well. I've got about 15 different varieties in stock at the moment which includes things like lasagne and bolognese.
"They are on offer at two for £5 so they are a really good deal for families or people that want a quick meals. We've also got lots of own-label pizzas in stock that are doing really well and give people another option for their dinner.
"I try and get people to buy things like coleslaw and salad with their pizzas. It helps to make it more of a meal and also makes it a bit healthier for everyone.
"Nowadays, people don't have time to cook so they are more often than not looking for the easiest thing they can find to cook the same night. We always get people coming in on a daily basis on their way back from work to buy something for their evening meal.
"I expect this demand to continue into the summer. Snacking products, like McCoy's Muchos, are selling well alongside our meal options because they are something people can share when they are eating or watching the telly.
"Crisps sales usually start to drop off when the whether gets warmer though, so we are making the most of this demand while we can before sales starts to slow down."
Star performers: "Sales of soft drinks and ready meals have been strong ever since we invested in a new three metre chiller in winter last year."
Successful NPD
"We always see a big uplift in soft drinks sales at this time of year and plenty of the new launches have been ticking over nicely. The new Vimto Remix drinks have been a particular hit with our shoppers."
Vimto added a new fizzy raspberry, orange and passionfruit flavour to its Remix drinks line-up in March.
Like the rest of the Vimto portfolio, the fizzy pink drink contains no added sugar and comes in a variety of bottle sizes, including: a 2 litre plain-pack bottle (rrp £1.79); 2 litre price-marked bottle (£1 PMP); and 500ml price-marked bottle (£1 PMP).
Commenting at the time of the launch, Emma Hunt, marketing director at brand owner Nicholas plc, said: "Consumers are increasingly looking for new experiences. As a result, demand for adventurous drinks with exotic flavours combined are continuing to grow, with Vimto Remix satisfying that thirst in a healthier way.
"We've seen raspberry, orange and passionfruit still and dilute fly off shelf and deliver impressive growth of 33%, so it was right to extend the range [Nielsen Value Sales, Total Coverage, MAT 29.12.18]. The new carbonated variant will be available in 500ml and 2ltr pack sizes and in both plain and PMP packs to give consumers and retailers the choice they desire."