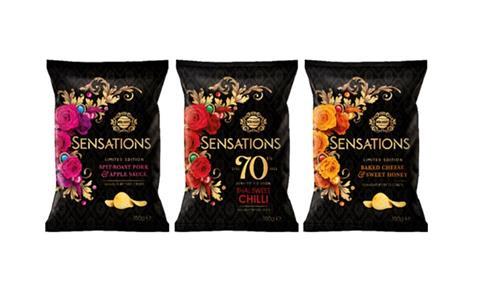 To help celebrate the Platinum Jubilee, Walkers' premium crisps range, Sensations, is to launch two limited-edition flavours - Spit Roast Pork & Apple Sauce and Baked Cheese & Sweet Honey.
Sensations Limited Edition Platinum Jubilee range is now available until the end of the Jubilee bank holiday weekend in 150g sharing bag (RRP: £1.99) and 65g PMP (RRP: £1) formats. The new flavours and the classic Thai Sweet Chili will also feature limited-edition Platinum Jubilee design.
PepsiCo will be launching its first scale ATL campaign in over two years to support the launch. A digital AV is set to be unveiled, featuring 'Queen of the Jungle' and posh icon, Georgia Toffolo. The campaign will also include digital, shopper, PR and social activities, and is expected to reach an audience of over 100m.
Lynn Grant, marketing manager of Sensations at Walkers, said: "As possibly Britain's poshest crisp, we're so excited about launching these new limited-edition flavours to bring consumers together to celebrate the Platinum Jubilee. Our ATL campaign is also the first Sensations has had in over two years, and it's going to be unmissable! We're thrilled to have Georgia Toffolo on board who is the perfect fit for our poshest-ever campaign."