Walkers has introduced a range of enhancements to its Max sub-brand including new varieties and new-look packaging.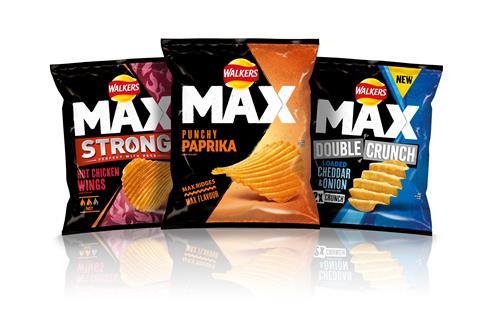 A new product, Max Double Crunch, has been devised, featuring crisps that have been cooked for longer to make them more crunchy than the standard max range. Max Double Crunch is available in sharing bags and grab bags across four new flavours – Bold BBQ Rib, XXL Chicken & Chorizo, Loaded Cheddar & Onion, and Original Sea Salt.
A new range of variety six-packs is also being introduced for Max, Max Strong and Max Double Crunch, and packaging has been updated across all three sub-ranges to give bags a unified appearance.
The brand's biggest ever support campaign, including TV and outdoor advertising, will run in February and March.
Grab bags (50g) have an rrp of 85-90p, while sharing bags (150g) have an rrp of £1.99 (£1 on promotion). Pricemarked £1 bags (70g) are also available for selected varieties.
Katherine Cook, Walkers Max brand manager at PepsiCo, states: "We are thrilled to announce the launch of Walkers Max Double Crunch: crisps that are cooked for even longer to offer twice the crunch of Walkers Max.
"At present, the potato crisps segment is in growth, which can largely be attributed to innovation that is differentiated in terms of flavour or texture. Walkers MAX, the second biggest contributor to potato crisp value sales growth in the last two years, has spearheaded this trend by responding directly to the needs of younger generations who are looking for bolder flavours and more fulfilling snacks, particularly when hunger strikes."