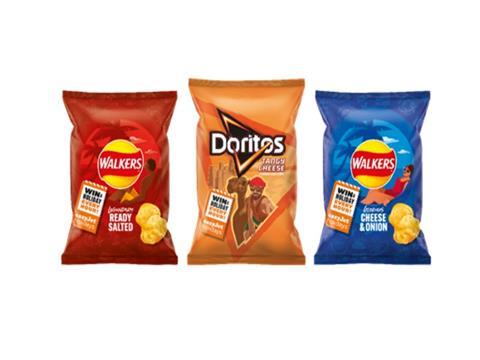 PepsiCo is running a new promotion across its Walkers and Doritos brands offering shoppers the chance to win over 1,000 package holiday vouchers in partnership with easyJet holidays.
The 'Win a Holiday Every Hour!" campaign will see an on-pack promotion of the competition, as well as a holiday-themed packaging makeover on bestselling products across both ranges.
The joint promotion launches on Wednesday 23 February and runs through to Monday 23 May; and lucky winners will have until 31 December 2022 to book, and until 31 October 2023 to take their holiday. The holiday-packaging takeover and on-pack promotion will feature across approximately 100 million Walkers and Doritos core flavours.
The multi-million-pound marketing campaign will launch with a scale TV spot on the evening of Saturday 26 February in conjunction with a Twitter takeover and will celebrate the funny things Brits only do on holiday. In addition, the campaign will be supported with a huge 360 investment into shopper, digital media, social media (TikTok, Instagram, Facebook, Twitter) and influencers.
Katherine Cook, Walkers marketing manager said: "We are thrilled to be bringing together our two biggest PepsiCo brands and partner with easyJet holidays to offer the British public the chance to win over 1,000 package holidays. With holidays to win every hour for 90 days, this is by far one of our biggest and most exciting on-pack promotions ever!
"Our hope is that the holiday campaign inspires the British public to leave the adversity of the past two years behind and spreads laughter with a light-hearted reminder of the things we all love doing with our friends and family - only on holiday! We also look forward to giving Gen Z Doritos-lovers the chance to express their bold individuality once again; after years of missed trips abroad with friends."
Richard Sherwood, marketing director of easyJet holidays added: "We only launched our easyJet holidays business in 2019, so joining together with Walkers and Doritos on this fantastic partnership as travel re-opens, is a real milestone for us. After the last two years we know there is a pent-up demand for travel and that 2022 is going to see the long-awaited return of our much-missed getaways. There is a unique sense of joy and freedom which only holidays are able to deliver, and it is so exciting to offer these opportunities to holiday-deprived Brits in conjunction with two of the biggest crisp brands in the country."