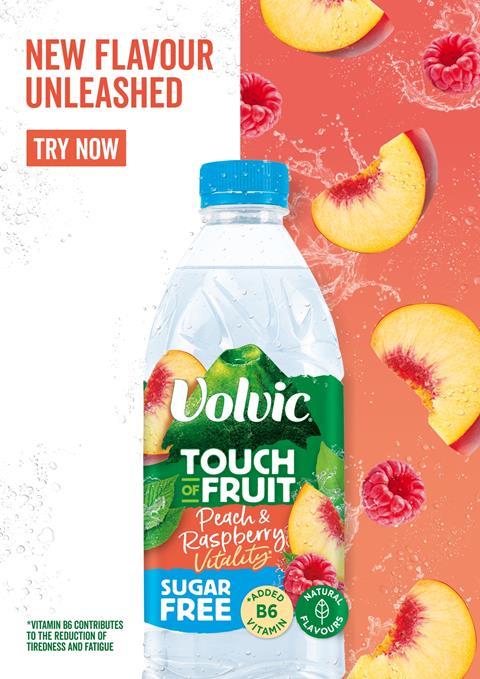 Volvic has revitalised its Volvic Touch of Fruit sugar free range with a new Peach & Raspberry flavour, with added vitamin B6.
The new addition emulates the flavours of white peaches combined with floral raspberry notes, after research conducted by Volvic found that peach and raspberry flavoured drinks grew by 17% within the soft drinks category over 2021.
The new flavour is available in a 1.5L bottle, exclusively available in ASDA until March, when it will be rolled out to other large supermarkets and impulse channels. The launch will be supported with online and in-store activity, alongside influencer and PR moments.
Gemma Morgan, marketing director at Danone, said: "The Volvic Touch of Fruit range has been delivering strong growth across the market in the last year, and the launch of this popular flavour combination is a tasty way to help even more people stay hydrated."
"Consumers are looking to make more mindful food and drink choices, and we believe flavoured water has a key role to play in offering a refreshing alternative to soft drinks, that won't compromise on taste. As the category continues to evolve, we're seeing greater uptake from retailers for our market leader, Touch of Fruit, with the sugar free range particularly driving continuous growth for the brand."
The announcement follows the recent relaunch of Touch of Fruit's branding in Summer 2021, with the new packaging offering a more eye-catching look alongside their 'Beyond Your Expectations' summer campaign.