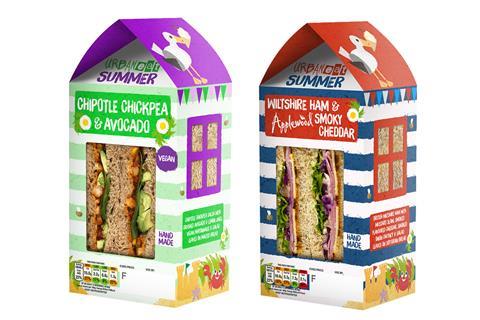 Urban Eat has revealed a new range of summer sandwiches including a vegan chipotle chickpea & avocado variant.
Also available as part of the seasonal line-up is the brand's new Wiltshire ham & applewood smoky cheddar sandwich - which combines British ingredients with a mustard slaw and a smoked onion chutney.
Commenting on the new range, Wayne Greensmith, head of category marketing at brand owner Adelie Foods, said: "Our seasonal specials continue to prove a huge hit. For our summer collection, the bright seaside beach hut packaging also brings colour and a point of difference to chillers, helping retailers and operators to make the most of sales opportunities.
"Our innovation team are always looking at new ingredients we can use and different recipes to bring to market. We're really pleased to bring Applewood's smokey cheddar cheese to our sandwiches for the first time and think these will be popular with shoppers."
He added: "With the number of consumers looking for meat-free lunchtime options at an all-time high, we've opted to make our first avocado sandwich vegan, using a vegan mayonnaise. We introduced a vegetarian seasonal special earlier this year which has performed even better than expected, while our first ever vegan Christmas option also proved a hit."
Urban Eat's new summer sandwiches will be available to retailers from 29 April to 18 August (rrp £2.79).