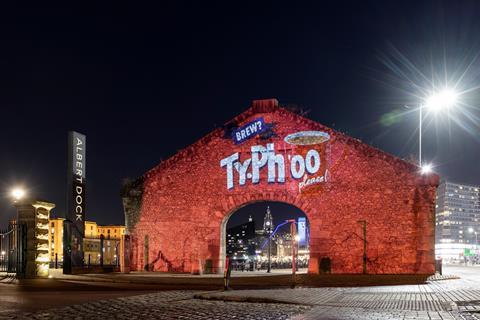 Typhoo is launching its first brand campaign in almost five years.
The 'OO Please' campaign kicked off in Liverpool with a takeover of locations and consumer sampling taking place.
Visual projection, mass sampling, radio advertising and sponsorship as well as PR and social media are all part of the three-month stunt aimed at re-engaging tea-drinkers with the brand.
"Typhoo has always been known for its bold, cheeky personality," explains Typhoo CEO, Des Kingsley.
"The 'OO Please campaign gives the infamous 'OO in Typhoo a new lease of life. We've put this to the test and the 'OO' in Typhoo perfectly expresses the emotion of being asked if you would like a brew. "Brew? 'OO Please.""
The first phase of the campaign comes after a business restructure last year which saw Zetland Capital, a London-based private equity firm, become a majority shareholder and Abercross expand its shareholding.
Kinglsey continued: "We are very confident that, as we increase our marketing focus and distribution, demand for our iconic, quality brand will be particularly strong amongst the nation's tea shoppers.
"We want to re-establish ourselves as one of the nation's best loved tea brands and deliver profitable growth in the UK and internationally. We're advising retailers to stock up on Typhoo brands as product awareness will be at an all-time high."